Cloud Connect
Guaranteed and reliable access to the resources of Russian and foreign cloud-based platforms
About the service
Cloud Connect is an ordinary connection and opportunity to ensure reliable access to cloud platforms for our clients.
Intended customer
In Cloud Connect, data is transferred via a designated channel, to minimize the risks associated with transferring data via the open Internet. This makes Cloud Connect the perfect choice for companies with high security profiles in the finance, medical, government, manufacturing and other sectors.
Requirements
To access a cloud provider's services directly, you only need to connect to MSK-IX as it has a peer-to-peer connection with the cloud provider.
How it works?
MSK-IX can connect a client to any endpoint in its network. The network offers high capacity across all of Russia when connected to the cloud provider of choice. Thanks to our geographically distributed network and direct connections to all cloud providers, Cloud Connect guarantees reliable access to Russian and foreign cloud platforms.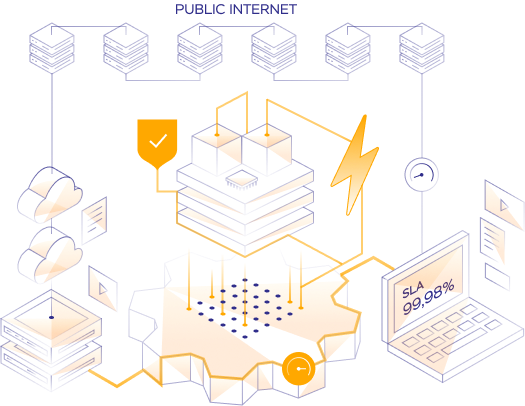 Why MSK-IX?

High-speed private VLAN with minimal delay (up to 100G)

Scalability of a communications channel with a cloud provider

Wide accessibility: 42 locations in 10 Russian cities

Reliability: 99.98%
Connection request form