Fast Link
Fast and reliable access to networks and services tailored to your needs.
About the service
Fast Link is a dedicated L2 VPN channel with a high-speed connection and effective bandwidth management.
Intended customer
Fast Link is used to connect remote branch offices to a company headquarters or corporate data centers. This is an essential service for many industries including finance, insurance, healthcare, manufacturing and others where security and reliability are critically important.
Requirements
Connecting to any endpoint in the MSK-IX network is all it takes.
How it works?
A dedicated communications channel is used under one of the topologies:
Point-to-point: A standard point-to-point connection between two locations, with a high degree of security, minimal delay and flexible capacity.
Point-to-multipoint: Connects branch offices to a head office, data center or a company's own cloud from several points.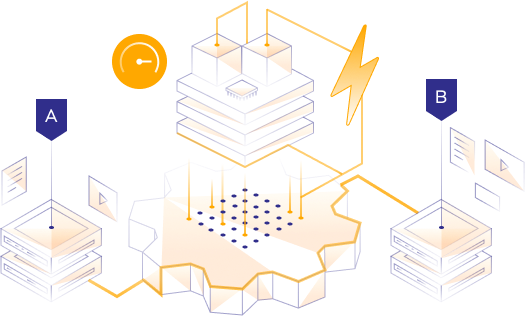 Why MSK-IX?

High-speed private VLAN with minimal delay (up to 100G)

Scalability of a communications channel with a cloud provider

Wide accessibility: 42 locations in 10 Russian cities

Reliability: 99.98%
Connection request form