December 7, 2017
Peering Forum participants discuss internet infrastructure development
On December 7, the World Trade Center in Moscow hosted the 13th Peering Forum organized by MSK-IX. More than 900 participants registered to attend the event.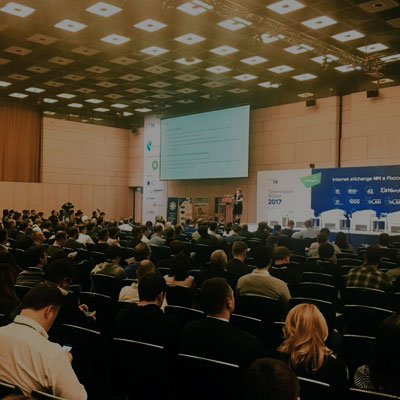 Peering Forum participants discuss internet infrastructure development
The forum's general partner was Rostelecom; special partner was Module; partners included Transneft Telecom, Huawei, GlobalNet, the Technical Center of Internet, the MSK-IX Center for Computer Network Interaction and TVIP. Media partners included gold partner D-Russia, silver partner 3D News, industry journals ComNews, IKS Media, TsODy.RF, AllDC.ru, TelecomBlogger, RSpectr.com, Vestnik Svyazi, Pervaya Milya, Nag.ru, IT-Weekly, ICT Online and DC Community.
MSK-IX CEO Elena Voronina opened the 2017 Peering Forum. She welcomed the participants and spoke about the factors that affected MSK-IX's development in 2017 such as new legislative initiatives, significant shifts in the network ecosystem, heavy attacks on the MSK-IX infrastructure as well as the first attacks on IPv6. Each of these factors triggered the development of new services together with changes in the company's development strategy. MSK-IX today does not only provide peering services but has an entire range on offer for network development highly sought after by operators.
«MSK-IX's strategy is determined by its members' ambition to have an integral solution for network development. In 2017, IX and MSK-IX dealt extensively with cybersecurity, DNS distributed network improvement, television signal delivery plus other related services. Inclusion of IXPs in the regulatory framework must consider the speed of changes in the internet ecosystem,» Elena Voronina stressed.
MSK-IX Technical Director Alexander Ilyin spoke about the company's network and service development.
«In 2017, MSK-IX prepared a platform for mass rendering of 100G ports to members in Moscow and St. Petersburg. Rapid scaling is very important for content delivery networks. As local peering expands, the speeds become mainstream,» he said.
MSK-IX Commercial Director Yevgeny Morozov presented the company's regular and new services. He particularly focused on the MSK-IX M9 PLUS new data center that opened last spring.
«MSK-IX offers connectivity and equipment stationing services to its members,» Yevgeny Morozov said. «The new modern M9.PLUS data center provides a solution in the operators' and content providers' first-choice location.»
Yevgeny Morozov also presented the Partner of the Year award to MegaFon.
One of MSK-IX's specific areas of business is television signal delivery via its Medialogistics platform that was launched in the fall of 2016. Medialogistics Director Grigory Kuzin presented a full report of the project's first year: «Over the first year, the number of television signals on Medialogistics exceeded 200 and TV VLAN became available in the five cities where MSK-IX is present. Our portfolio expanded with stream conversion services for OTT, which is something that is becoming increasingly popular.»
In 2017, Medialogistics won the Big Digit award.
Every year, the Peering Forum invites representatives of foreign Internet Exchange Points. This time, among the speakers was IX.br Technical Director Julio Sirota who spoke about the ICT development in Brazil. The popularity of Brazilian IXP is due to the high potential of the national internet segment, large broadband access usership, presence of the world's major CDNs and content providers, as well as reasonable costs of IX.br peering ports subsidized by domain revenue.
Prominent experts of the internet industry, Mikhail Medrish (Akado Telekom), Andrei Vorobyov (Coordination Center for TLD .RU/.РФ), Alexei Rogdev (Beeline), Dmitry Burkov (RIPE NCC / FAITID), answered questions on the localization of Russian traffic in the national Internet segment. According to expert research by the Documentary Electrocommunications Association and other organizations, the share of the Russian domestic traffic passing through foreign operators is not big due to the technological specifics of the networks and applications. The experts agreed that the Russian internet is a complex, fast developing ecosystem and simple solutions in this area may lead to complications for its operations.
The Peering Forum concluded with a round table, Internet in the Age of Boundaries and Restrictions, moderated by Internet of Things Association Director Andrei Kolesnikov. Round table participants highly appreciated the level of internet development in the country and discussed technology regulation, the impact of recent Russian and foreign initiatives on internet development, VPN and anonymizer ban and other topical things as well.
Closing the 2017 Peering Forum, Program Committee Chairman Konstantin Chumachenko said: «Every year we invite speakers who enrich our as well as our audience's knowledge of the internet. My special thanks go to the MSK-IX community members who helped make the program not only interesting but also exciting.»