December 4, 2017
Peering's new role covered by 7th edition of Internet Inside
The Internet Inside journal's 7th edition has come out dedicated to peering and connectivity.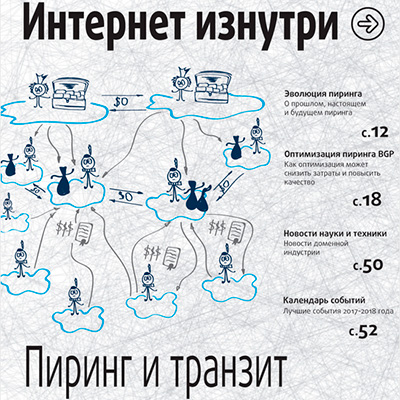 Peering's new role covered by 7th edition of Internet Inside
Editor-in-Chief Andrei Robachevsky said in his editorial note:
«Peering implies equal communication and most often means cost-free traffic exchange between participants' networks. Transit ensures what the networks could not achieve by peering, which is global connectivity of each participant with each participant. There is usually some settlement involved.»
«However, it seems that the internet structure is changing and more connectivity – most importantly, crucial connectivity – can be rendered by peering. First of all this is due to the consolidation of content and cloud service providers as well as their desire to be as close to the customers as possible. Intermediary transit providers are becoming less necessary. This is good news for IXPs but even they should not forget that they are also mediators.»
More on this subject can be found in other parts of the journal. This particular edition has seven sections this time (plus an events calendar), including Internet in Figures with current global internet traffic data, Technology in Details explaining peering specifics, Internet Standards on the evolution of the protocol 'war-horse.' Readers interested in legal regulation will learn from the Politics section why conventional regulations do not work online. The Security section elaborates on user and routing global system protection. Science and Technology News reports that ICANN has postponed KSK rotation for root zones, and presents domain industry news.
«We have released the edition in time for the MSK-IX Peering Forum,» MSK-IX CEO Elena Voronina said. «The first people to arrive at the forum will be presented with a special printed edition of the journal.»
Even if you are not so lucky, Internet Inside is available here: Internet Inside 7th edition.