June 4, 2018
MSK-IX hosts ENOG 15
Telecoms and Internet conference opens in Moscow.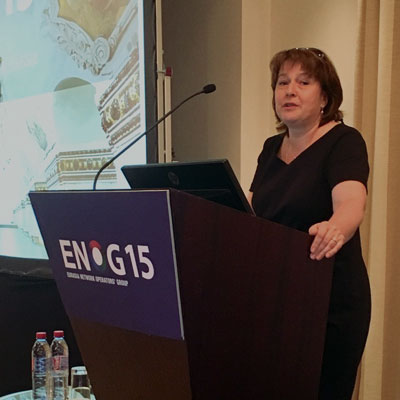 MSK-IX hosts ENOG 15
On June 4 and 5, Moscow's MSK-IX is hosting ENOG 15, the telecommunications industry's largest regional forum, which this year attracted more than 600 participants from 26 countries. The conference is held by RIPE NCC, one of the five Regional Internet Registries. The participants include leading international and regional experts, network operators, service providers and other representatives of the Internet community. The mission of the conference is to exchange experience and discuss core operational issues as well as share ideas on advancement of the global internet in the region.
MSK-IX General Director Yelena Voronina spoke at the opening of ENOG 15. In her remarks, she presented several non-commercial MSK-IX projects, including the eighth issue of the Internet from the Inside journal. The printed version is available to all conference participants, and the online version, at http://internetinside.ru/tag/8-2018-aprel/. Ms.Voronina also spoke in detail about the progress of third-level domains net.ru, pp.ru and org.ru, in which several tens of thousands of domain names are registered. She said that these domains were supported by MSK-IX, and offered to register new net.ru, pp.ru and org.ru names.
Ms. Voronina also focused on the Indata project. The Indata network development foundation was established in 2016 to conduct Internet research. "The main focus of the Indata Foundation's reports is the analysis of the route and address information on the internet. The reports are published on the foundation's website, http://ididb.ru," she said.
MSK-IX Council member Alexei Platonov also spoke at the opening of ENOG 15. He described ENOG as the best platform for communication between technology experts, emphasizing that the main goal of the community today is to preserve the unity and integrity of the internet.
The conference will last two days. The ENOG 15 program includes presentations and reports by Russian and foreign experts, roundtables, discussions and informal meetings.