December 5, 2018
Yelena Voronina: «International community will learn to make cooperative decisions»
MSK-IX Director General Yelena Voronina took part in the section «DNS in retrospect: Global history through a regional lens» at the DNS Forum in Moscow.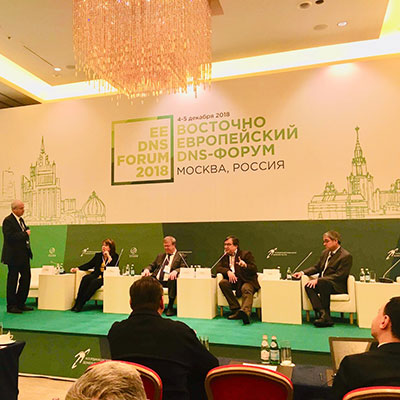 Yelena Voronina: «International community will learn to make cooperative decisions»
On December 4-5, the EE DNS FORUM organized by the Coordination Center for TLD .RU/.РФ and ICANN took place in Moscow. The list of speakers included MSK-IX Director General Yelena Voronina. She took part in the sections on the history of relations between regional registries and international organizations. The participants discussed how the first projects with foreign organizations were launched, how Eastern and Western countries exchanged experience, how the Russian domain zone appeared and how the first Russian domains were created.
«Different countries have many things in common. We share the same ocean, the same space – the internet,» Yelena Voronina said. «The internet is both a business and a business tool. The demand for this tool is in place: everything must work smoothly, without problems. The various roles are distributed in the domain industry: registries, registrars, registrants and others. This distribution helps provide stability in each area of cooperation and guarantees business transparency. It is important that national internet rules do not conflict international rules.»
Alexei Soldatov (Russian Institute of Public Networks), Dmitry Burkov (FAITID) and David Conrad (ICANN) also took part in the session; it was moderated by Mikhail Medrish (AMT-GROUP).
The Eastern European Forum is a platform for internet experts and anyone who follows the industry's development. It focuses on internet security, DNS-abuse, blockchain, legal implications and regional trends, among other things.
The participants included registries, registrars, internet provides, mobile operators, lawyers, marketing and technical specialists, noncommercial organizations and government bodies. This year, the forum was attended by over 120 participants.