December 17, 2018
Anniversary issue of Internet Inside on confidentiality
The tenth issue of Internet Inside magazine has been released.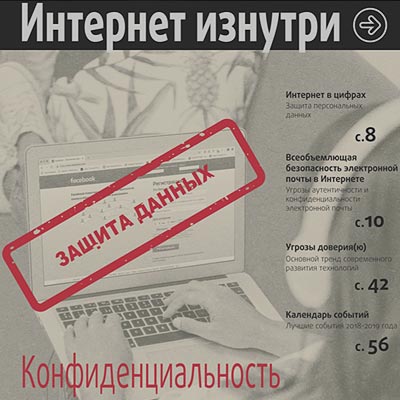 Anniversary issue of Internet Inside on confidentiality
«We tried to cover a wide range of issues with this term including confidentiality, anonymity, personal data protection and also technology and the legal implications in this area. In this issue, you will learn where cryptographic enthusiasm comes from,» Andrei Robachevsky writes in the introduction.
Geoff Huston enters into polemics with Anthony Rutkowski about whether it is advisable to use encryption algorithms everywhere on the internet, and independent expert William Stallings presents tips on how to address problems related to security and confidentiality protection in the email system. Madina Kasenova writes in detail about issues related to personal data regulations in EU law.
In the Science and Technology News section, Pavel Khramtsov touches on several issues related to credibility, which is another aspect of confidentiality.
In 1993, a cartoon with the caption, «On the internet, nobody knows you're a dog.» by Peter Steiner, was published by The New Yorker. This observation was true 25 years ago, but it must be updated today. Of course, the problem is in the word "nobody." Today the internet is so transparent that all the "dogs" can be seen and controlled.
An online version of the magazine is available here:
https://www.ccni.ru/download/InternetInside/InternetInside_N10.pdf