November 23, 2018
Individual creativity propels the industry forward
Roundtable discussion, Yarovaya and Darwin Laws as Digital Transformation Factors, at MSK-IX Peering Forum.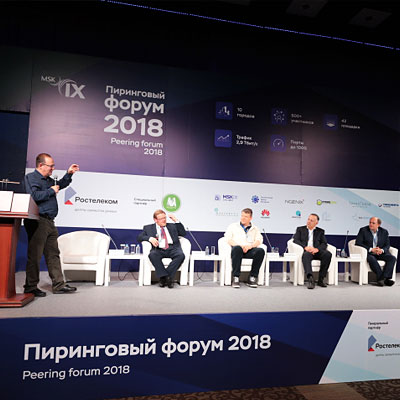 Individual creativity propels the industry forward
A lively discussion was held during a roundtable discussion held by Andrei Kolesnikov (IoT Accociation). The participants talked about the effects of lawmaking on the development of the industry, discussed the analog and digital economies and deliberated on the demands of the state and ways to meet them if necessary.
This time around, there was a significant divergence of opinion on government control between the participants, the list of which included Anton Bogatov from Telia Company AB, Kazimir Voytkevich from Webra (RED-IX), Vitaly Slizen from INOVENTICA Group and Mikhail Yakushev from Vimpelcom. However, all of them noted that today the state is playing a positive role when it comes to preventing oligopoly on the domestic communications market, and expressed confidence that the state would never allow large negative changes in regulation.
No state can cause just as much damage as the market participants themselves, Voytkevich noted, recalling the so-called operator wars, when the customers were the only ones to benefit. The question was, how will the Yarovaya law affect users, and does it have anything to do with regular users at all? Again, the opinions were divided: the state acts on its own interests, and when it comes to the internet, no one really knows what the rules are.
«There is no global solution to this problem, everyone is driven by short-term gain,» Bogatov said, supported by Vitaly Slizen. «The internet has provided everyone with an opportunity to change jurisdiction without any problem,» Yakushev said. «At every new stage, new ways to bypass the law will appear, and they are becoming increasingly cheaper, too. That's why no regular user will actually be affected by this law.»
«If you keep switching between networks and jurisdictions, no one will be able to chase after you,» Bogatov confirmed.
Voytkevich outlined an antiutopian theory that «this flat world is controlled not by us, but the operators, and they will be the ones to eventually control everything.»
At the end of the discussion, the participants agreed that creativity propels the industry forward, and the tougher the legislation, the more creative people become – and more of them, too. That's why new laws, especially unenforceable laws, cannot prevent the network from developing and people from using the services they like and find most convenient.