September 26, 2018
MSK-IX Peering Forum to take place on November 23 at the World Trade Center
Registration open for the MSK-IX Peering Forum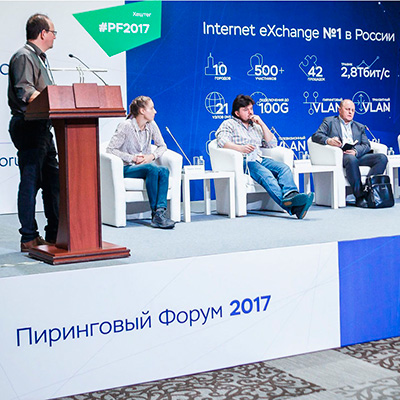 MSK-IX Peering Forum to take place on November 23 at the World Trade Center
On November 23, the Congress Hall of the World Trade Center in Moscow will host the 2018 MSK-IX Peering Forum.
This year, the forum will bring together leading experts in telecommunications and digital technology. People will become acquainted with the latest trends in the industry and participate in related discussions.
The participants will address topical issues concerning the development of technology, telecommunications business and legal regulation in communications and information security.
Representatives of MSK-IX client organizations and partners as well as telecommunications professionals are invited to attend.
The MSK-IX Peering Forum is an annual event in the internet and telecommunications industry for representatives of peering operators, internet providers, government agencies and non-government industrial bodies from Russia, the CIS and Western Europe. For over 14 years now, the MSK-IX Peering Forum has become an open business platform for discussing network interaction and traffic exchange, development prospects for content delivery and television channel aggregators.
Register for the event here: https://peering-forum.ru/registration/.