February 5, 2018
Medialogistics is presented at the "CSTB: Telecom & Media'2018" exhibition
Between January 30 and February 1, Moscow's Crocus Expo hosted the "CSTB: Telecom & Media'2018" Exhibition-Forum.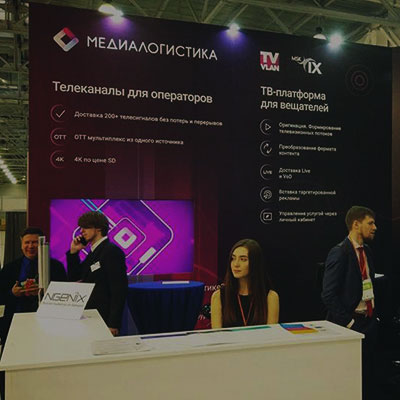 Medialogistics is presented at the "CSTB: Telecom & Media'2018" exhibition
For twenty years, the exhibition has opened the business season in the Russian television and telecommunications industry.
MSK-IX participated in the event with its Medialogistics stand and expanded its pool of regional operators receiving television signals with Medialogistics. Currently, the project customers can enjoy more than 200 quality television signals without any disturbances or interruptions, including 4K television signals.
Medialogistics Director Grigory Kuzin took part in the business section of the event. Participants discussed online television, shared their views on new challenges and solutions in the area and talked over why terrestrial channels should not be broadcast via the internet.
"Currently, the majority of terrestrial aggregators do not have the infrastructure for directly linking television channels and delivering the signals to regions via optic fiber. So they simply earth the television channels from a satellite, which a TV operator can do, and deliver the signal via the internet. On the other hand, this business does not have the trade volume that would justify an expensive infrastructure. Therefore, only a company that already has the necessary infrastructure can provide an aggregation service of adequate quality. Our project, Medialogistics, is based on the MSK-IX infrastructure that was developed for operator services, five hundred of which are already connected to our traffic exchange point," Grigory Kuzin said.
Medialogistics is a platform for terrestrial distribution of television signals between broadcasters to cable and satellite TV operators and internet companies.Operators can access a package of compulsory, themed and regional television channels via TV VLAN on the MSK-IX network while broadcasters can deliver television signals from operators via the MSK-IX network with maximum quality as well asminimum costs.