July 6, 2020
Internet of the future in "lucky" issue of Internet Inside
The 13th issue of Internet Inside came out in June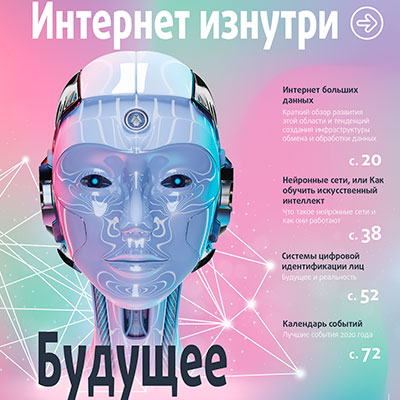 Internet of the future in "lucky" issue of Internet Inside
The new issue can be viewed here: https://www.ccni.ru/publications
"The technologies covered in this issue include Artificial Intelligence, the Internet of Things and Big Data – all of today's most relevant technologies. These new and rapidly growing areas will only reveal their full potential tomorrow. Without changing the magazine's genre to science fiction, we looked at them from our present perspective and tried to identify future trends," said Editor-in-Chief Andrei Robachevsky in the editor's column.
The concept of packetization lies at the basis of digital communications. According to this model, a packet instructs a network to operate in a certain manner. IP revolutionized the industry that was previously dominated by telephony.
But changes never come easily. For decades, the transformation of communication processes has been met with resistance. In the new issue, the authors look at the technological evolution as the foundation for future changes.
Thanks to the thorough coverage of the major topics, the magazine's new issue is a sizeable read.
Geoff Huston's piece on emerging communication technologies influencing internet development opens the top seven most fascinating articles. As communication models continue to develop, this development shapes emerging technologies. The author offers a background-intensive overview of the technologies that are integral to the giant digital network built over the past decades, starting with a review of the internet itself.
Geoff gives an extensive account of optical and wireless data transfer technologies. He also covers resolverless DNS and the history of quantum networking and speculates on future data transfer technologies and formats.
Gleb Pyzhov and Yury Demchenko describe new types of the Internet of Things and work with Big Data. Editor-in-Chief Andrei Robachevsky wrote a feature in which he contemplates whether the internet will be able to meet the demands of the future because technology is developing much faster than analysts expect.
In Natalya Konnova's article, Neural Networks, or How to Teach Artificial Intelligence, readers will also find out about the creation of Artificial Intelligence, technologies at the core of AI and AI learning. Magazine authors return to AI twice in this issue. The second piece expands on the use of AI in cybersecurity.
In the Politics section, Madina Kasenova discusses the current reality and the future of digital identification systems. Technology in Detail focuses on deep-sea telecommunications cables. (This is definitely sci-fi, isn't it?) Don't miss the exciting reports from Pavel Khramtsov in Science and Technology News.
You can leave your comments and reviews on the magazine's official website at http://internetinside.ru. The print version is not for sale and available only at the MSK-IX office.