November 23, 2020
MSK-IX wins ComNews Awards
On November 20, 2020, ComNews Awards announced the winners in the category Best Telecommunications Project During the Pandemic.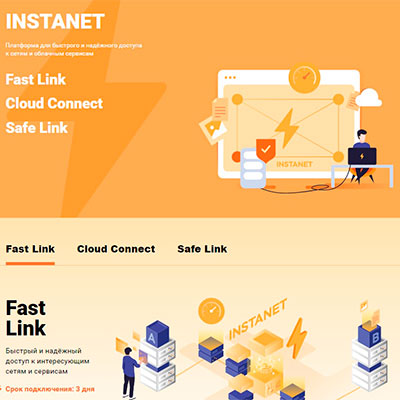 MSK-IX wins ComNews Awards
The board of experts and market players recognized Instanet by MSK-IX as the best telecommunications project in 2020 for the advantages it offered to the telecommunications sector, as well as exceptional service quality.
"We have long sought recognition from the telecom community not only as an internet exchange point, but also as a multi-purpose platform, and it has finally happened. The Instanet project by MSK-IX offers customers extensive opportunities for quickly scaling their networks, reducing costs and achieving better stability for customer services. We are extremely pleased that the community has appreciated Instanet in all its aspects, handing us this unexpected and pleasant award. I thank our team and partners," MSK-IX Sales Director Yevgeny Morozov said.
Instanet MSK-IX is a platform for fast and reliable access to networks and cloud-based services. It includes three components: Fast Link, Cloud Connect and Safe Link. This service is designed for those seeking safe and reliable access to cloud-based platforms.
Other winners included Rostelecom, Sibur Holding, Kaspersky Lab, SberCloud, x5 Retail Group, Ingosstrakh and other companies. This was the ninth edition of the ComNews Awards. This year, there were awards in the following categories:
1. Best integrated innovative solution during the pandemic.
2. Best digital solution for healthcare.
3. Best digital solution for education.
4. Best transportation, logistics and delivery solution.
5. Best digital finance solution.
6. Best digital platform implemented in a retail bank.
7. Best digital solution for retail trade.
8. Best digital solution for the housing and utilities sector.
9. Best digital solution for the entertainment sector (TV and media).
10. Best online concert during the pandemic (taking into consideration digital platform quality).
11. Best comprehensive remote working and remote workplace solution.
12. Best solution for remote working in the infosec sector.
13. Best telecommunications project during the pandemic.
14. Best solution for digital passes.
15. Best digital social responsibility project during the pandemic.
16. Best digital solution for the manufacturing sector.

For more information on Instanet MSK-IX, go to https://www.msk-ix.ru/instanet/