January 28, 2020
MSK-IX launches new logo for its Medialogistics project at CSTB.TELECOM&MEDIA 2020
On January 28, the CSTB.TELECOM&MEDIA 2020 exhibition kicked off in Moscow, with MSK-IX Medialogistics taking part and launching a new project logo.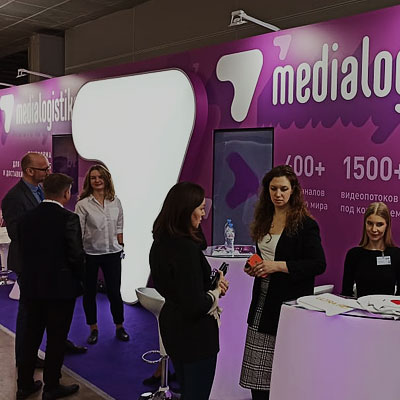 MSK-IX launches new logo for its Medialogistics project at CSTB.TELECOM&MEDIA 2020
Today, Medialogistics is one of the MSK-IX platforms that has gained significant momentum in the last four years and is actively developing Russian and foreign content. It is now easier for TV operators to create a broad portfolio of TV channels, which adds to their attraction.
The CSTB.TELECOM&MEDIA forum and exhibition is a unique international project, an annual industry event that brings together all experts in pay-TV and the telecommunications and media industries on a single platform. Today's exhibitors are not only manufacturers and distributors of content, media holdings and television channels, multiservice operators and telecommunications companies, but also digital platforms, content aggregators, film companies and production studios, equipment manufacturers, system integrators, high-tech and IT companies, consulting and analytical agencies, and specialized associations.
Medialogistics stand 8-PR05 is located in Pavilion 2. All visitors can have a cup of coffee in honor of the new logo and learn about the project's key capabilities.