December 2, 2020
Data transmission infrastructure – main topic of the 14th issue of Internet Inside
The 14th issue of the magazine has been published, dedicated to internet infrastructure and the 25th anniversary of MSK-IX.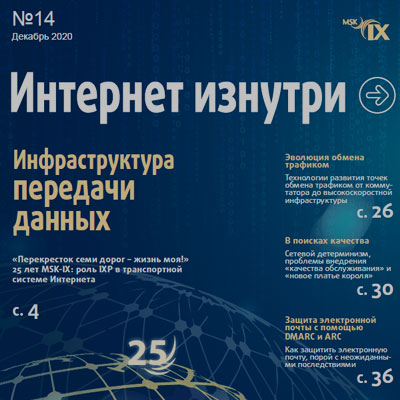 Data transmission infrastructure – main topic of the 14th issue of Internet Inside
In the run-up to the final session of the MSK-IX Peering Forum, the 14th issue of the Internet Inside magazine was released. This time the magazine contains seven sections. Editor-in-Chief Andrei Robachevsky pays special attention to the anniversary of MSK-IX. He notes that the company, which was born with a single switch connecting seven providers, today connects more than 500 participants, transferring over 4 TB of data per second.
Two articles explain how it all began and what it has become – IXP – the Crossroads of the Internet by Yelena Voronina and Evolution of Traffic Exchange by Alexander Ilyin.
The magazine team also collected the memories of "industry veterans," who share their views on the internet of today and tomorrow.
The anniversary prompts readers not only to look back, but also to reflect on the present, as well as look into the future. John Levine will acquaint readers with new developments in IETF to strengthen email security – incidentally, it was the first unexpected "killer app" of the young internet.
Andrei Robachevsky notes that 2020 is not only the anniversary year of MSK-IX but also of the year of COVID-19. The pandemic has once again proven the efficiency of the internet and the organizations that ensure that it functions. However, it was not without the "black swans," which Madina Kasenova will talk about in collaboration with Yelena Voronina.
It will also be interesting to read the standard section Science and Technology News by Pavel Khramtsov.
The full version of the magazine is available here.