MSK-IX
/
News
/
Global traffic exchange points have to quickly respond to changes during platform service periods
December 3, 2020
Global traffic exchange points have to quickly respond to changes during platform service periods
The final section of the MSK-IX Peering Forum was held on December 3.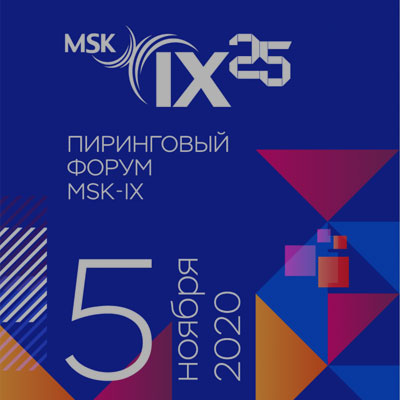 Global traffic exchange points have to quickly respond to changes during platform service periods
The final section of the MSK-IX Peering Forum had two parts: remarks from companies' top managers and technical specialists as well as a roundtable discussion featuring ICT market experts.
MSK-IX Director Yelena Voronina opened the session. She talked about the origins of the internet industry and noted that everything had changed drastically over the 25 years. Director-General of Rostelecom-Data Center Pavel Kaplunov said that today traffic exchange points were the place where operators met and in the future they would be a place where service providers meet with users. CCNI MSK-IX Director Alexei Platonov mentioned the importance of balance between technology companies' commercial and noncommercial goals.
MSK-IX CTO Alexander Ilyin spoke briefly about the company's project updates, with an emphasis on important technological elements. The session continued with the roundtable discussion "Internet eXchange as a technological accelerator" moderated by Dstream Group Director Serge Radovcic. The list of participants included MSK-IX Commercial Director Yevgeny Morozov, Netnod Director-General Lars Michael Jogbäck, DE-CIX Chief Business Development Specialist Andreas Sturm, Namex General Manager Maurizio Goretti, and Emrah Yorulmaz, AMS-IX Regional Manager for Eastern Europe, Russia and Eurasia. The participants shared their experience on how the community survived the lockdown in various countries and decided that the industry had responded to the new challenge well and without panic, although there were significant burdens.
The Peering Forum opened on November 5 with a webinar that invited speakers from RIPE NCC: Marco Hogewoning, Manager of Public Policy and Internet Governance ,and Maxim Burtikov, External Relations Officer (Eastern Europe, Caucasus and Central Asia). Marco talked about the diversity of internet protocols depending on their equipment, and how the internet has changed our lives, from everyday to industrial situations. "The internet is developing initiatives from down below. We as users can share our opinion, and on these principles the model of the internet of the future is built, as I see it. When we do something for people, we do it for ourselves. This is why we have to choose the best solutions for the future society and for everyone who uses the network," Marco said.
On November 12, the MSK-IX Peering Forum continued with a roundtable discussion on promising technologies as threats for information security. It was moderated by Mikhail Kader, Lead Information Security Consultant for Russia and the CIS at Cisco Systems. Taking part in the discussion were also Mike Geller, Distinguished Cyber Security Architect at Radware; Andrei Ivanov, Head of Security Services Development Area (Yandex.Cloud); and Eric Vyncke, Internet Area Director at IETF and Distinguished Engineer at Cisco. Mikhail Kader concluded the discussion saying that the impact of hardware platforms on the vulnerability of new protocols was part of the standard user expectations. And it was hardware solutions that are the basis for user confidence in the new innovations.
On November 19, the roundtable discussion on "Technological and economic drivers of internet localization" kicked off, "starring" Andrei Robachevsky, Senior Technology Programme Manager at Internet Society; Dmitry Burkov, FAITID Chair; Andrei Kolesnikov, Director of the Internet of Things Association; and Mikhail Yakushev, Deputy Director of the Digital Environment Law Institute of the Higher School of Economics. The participants discussed today's internet trends and talked about how the pandemic had changed the world, presenting examples from their experience. In particular, the roundtable participants spoke about service consolidation, the death of transit, specialized networks (5G/IoT/NewIP) and digital sovereignty.
On November 26, an interview session was held with Dmitry Peskov, Special Presidential Representative for Digital and Technological Development, and General Director of the National Technological Initiative Platform: State Technological Policy and Promising Areas of Technology Business in Russia. A number of questions were dedicated to computer literacy. Peskov highlighted such key areas as educational events on cybersecurity and support for companies with new Internet of Things projects. He noted the value of internet connectivity and ICANN's conservatism in addressing issues on government involvement. The discussion participants touched upon education and said that today there is a trend to train skills that no one had trained before. Today it is clear that these skills can and must be taught, and then career growth is possible. It is important to know when to take risks and implement nonstandard projects.
This year, the MSK-IX Peering Forum was held online for the first time, as a series of webinars and online conferences on Thursdays. Nine hundred participants registered, and the forum streamed on three platforms where participants could ask questions and take an active part in the event.