November 26, 2020
Online/offline fusion inevitable in the global future
The November 26, session of the MSK-IX Peering Forum began with an interview with Dmitry Peskov, Special Presidential Representative for Digital and Technological Development and General Director of NTI Platform, on state technology policy and promising areas of technology business in Russia.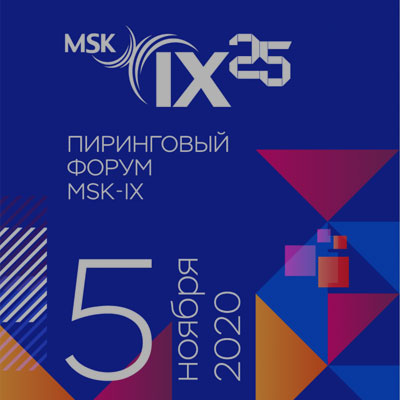 Online/offline fusion inevitable in the global future
The webinar was opened by General Director of MSK-IX Yelena Voronina and continued by Andrey Vorobyev, Director of the Coordination Center for TLD .RU/.РФ.Dmitry Peskov began by answering the previously submitted questions, many of which had to do with doing business during the pandemic. "To grow in 2020, one just had to slow down the fall. Initially a joke, it has become a reality today," he said, noting the difficult situation in the services market, but adding that this should push the development of fast and inexpensive online solutions.
A number of questions were asked about computer literacy. Dmitry highlighted a few important steps such as educational events on cybersecurity and support for companies with new Internet of Things projects. He noted the value of internet interconnection and ICANN's conservative approach to addressing issues with government involvement.
The participants in the discussion touched upon the topic of education and noted a budding trend to develop qualities that no one has trained before; it was in fact generally believed that personal qualities could not be trained. Today it is clear that it is quite possible and even necessary to achieve career growth; it is important to be able to take risks and implement risky projects.
The difficulties in Russian online education were also noted; the speaker emphasized that we are only just starting, and high-quality online education is still far ahead.
The interview was followed by the webinar on BGP transport security as a recipe for a healthy sleep for administrators, moderated by CTO of MSK-IX Alexander Ilyin. Guest speaker Ignas Bagdonas, Principal Engineer at Equinix, talked about BGP security principles. He noted the use of a shared environment combined with a lack of trust while using external peering. The participants discussed the outlook for the evolution of BGP and how much attention should be paid to security.
The next and final section of the MSK-IX Peering Forum will take place on December 3.