April 9, 2019
MSK-IX and Coordination Center for TLD .RU/.РФ host RIPE NCC Day in Moscow
The industry celebrates the 25th anniversary of the .RU domain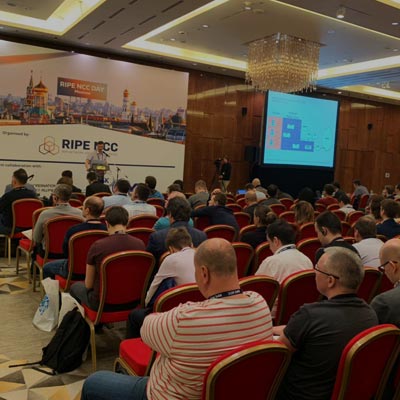 MSK-IX and Coordination Center for TLD .RU/.РФ host RIPE NCC Day in Moscow
MSK-IX and the Coordination Center for TLD .RU/.РФ hosted RIPE NCC Day. The conference organized by the RIPE NCC regional registry brought together over 500 participants from 25 countries.
The conference was opened by the hosts' top managers, Yelena Voronina (MSK-IX), Andrei Vorobyov (Coordination Center for TLD .RU/.РФ) and RIPE NCC Chief Information Officer Kaveh Ranjbar. They wished the participants a successful conference and spoke about important events and projects held to mark .RU's 25th anniversary.
«We are preparing the next issue of the Internet Inside magazine with Alexei Platonov's memories on how the Russian internet began and who should be thanked for the opportunities we all have today. The new issue will soon be published online, and those who like old-school traditions will be able to read the print version,» Yelena Voronina said.
Director of the Coordination Center for TLD .RU/.РФ Andrei Vorobyov congratulated the audience on the domain's 25th anniversary, spoke about the ceremony held to cancel the commemorative stamp, and presented Kaveh Ranjbar with a framed stamp.
The conference aims to promote discussion of topical issues related to the development of the global internet. The event is attended by speakers from RIPE NCC, Cisco, the French Geopolitics Institute, and the InData Foundation. The reports cover the development of DNS platforms and technologies, internet address space management, migration to IPv6 and traffic routing optimization.