MSK-IX
/
News
/
MSK-IX expert speaks about peering between Russian and foreign participants at the 14th European Peering Forum
September 18, 2019
MSK-IX expert speaks about peering between Russian and foreign participants at the 14th European Peering Forum
Alexander Ilyin, Technical Director of MSK-IX, has made a presentation at the 2019 European Peering Forum on tools for organizing peering between Russian and foreign networks. He also invited all participants to Moscow to attend the MSK-IX Peering Forum, which will be held on December 5, 2019.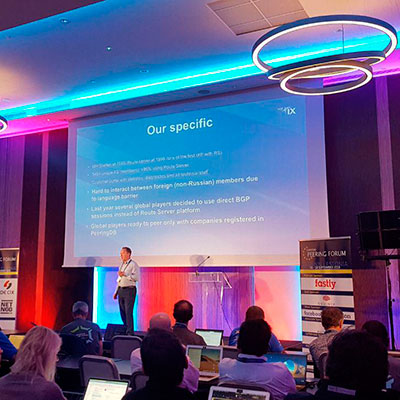 MSK-IX expert speaks about peering between Russian and foreign participants at the 14th European Peering Forum
More than 500 peer-to-peer exchange participants from 24 countries use the services of MSK-IX. For many participants, the beginning of peer-to-peer interaction is hampered by the language barrier. This year, the MSK-IX client portal introduced the function of generating invitations to establish peering in English and Russian. They are produced at the request of the participant and contain all the necessary technical information to begin peering.
«Since the beginning of the year, over 700 peering requests have been generated by the MSK-IX client portal. We also contributed to the PeeringDB resource development project by translating the interface into Russian,» said Alexander Ilyin. «The goal of MSK-IX is to help participants make the most of our services, and simplify their working with the technical information needed to administer peer-to-peer sessions.»
The 2019 European Peering Forum takes place in Tallinn from September 16 to September 18. The program includes reports by experts and leaders from the telecommunications market and discussion of the development of peer-to-peer exchange technologies and their security. The speakers include Job Snijders (NTT), Henk Steenman (AMS-IX), Martin Atkinson (Equinix), John Souter (LINX) and Arnold Nipper (DE-CIX).