MSK-IX
/
News
/
Participants of Transport Networks Russia conference focus on development of traffic exchange services by expanding availability
March 26, 2019
Participants of Transport Networks Russia conference focus on development of traffic exchange services by expanding availability
Commercial Director of MSK-IX Yevgeny Morozov delivered a report at a conference in Moscow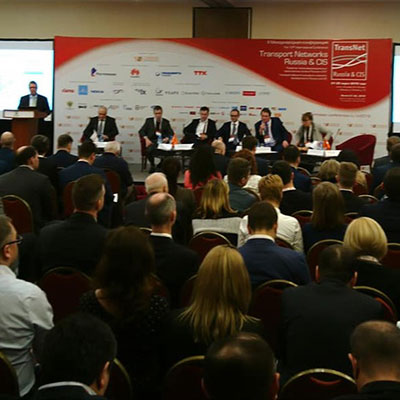 Participants of Transport Networks Russia conference focus on development of traffic exchange services by expanding availability
On March 21−22, Moscow hosted the 10th International Conference Transport Networks Russia & CIS – Transport Telecommunication Networks Development in Russia and CIS (TransNet). The program of the event included a plenary session and four roundtables.
This year, more than 450 participants attended the conference. Telecom operators, regulators, and equipment and services providers took part in the discussions.
Representatives of MSK-IX participated in the roundtable discussion on the new role of traffic exchange (IX) on the backbone market.
The discussion was attended by CEO and co-founder of PITER-IX Nikolai Metlyuk; CEO Sea-IX Yegor Drobyshev; Senior Account Manager of MegaFon Pavel Klimov; General Director of Vebra (RED-IX) Kazimir Voitkevich, and Yevgeny Morozov from MSK-IX.
Morozov's presentation illustrated the development of the MSK-IX service platform. He noted a few important changes that had occurred over the past year, including the development of IX multiservice platform by expanding the availability of services based on the company's own access network and the networks of its partner operators. He also spoke about the successful development of the partnership with DE-CIX.
The speaker told the participants about the company's Medialogistics project. Over the past few months, the project added more channels; it updated the list of 4K channels and added exclusive channels that are only available in the original quality for land-based TV signal delivery on the Medialogistics platform.
The participants agreed that the service platform is the key to the success of traffic exchange points and proposed developing the industry in this direction. Nikolai Metlyuk told the audience about his vision of the development of traffic exchange services as a tool for democratizing network interaction and the limitations connected with this: the minimum number of sites of presence and administration of the process, and the focus on the technical component of traffic exchange.
Alexei Kipchatov joined the discussion, questioning the demand for such a model.
The roundtable participants agreed that it was premature to assess the impact of the draft law on IX activity and suggested following the developments for now.