January 29, 2019
Medialogistika project at the CSTB 2019 exhibition and conference
CSTB. TELECOM & MEDIA, a major industry event, opened in Moscow.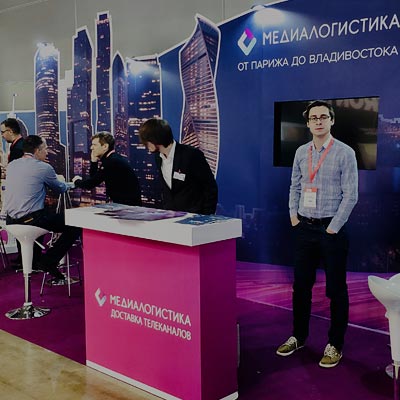 Medialogistika project at the CSTB 2019 exhibition and conference
The exhibition and forum CSTB. TELECOM & MEDIA opened at the Crocus Expo exhibition hall on January 29. TV networks, media holdings and other companies in the industry took part in the event. For the three days of the event Crocus Expo brought together TV and telecom experts, including the Medialogistika content delivery platform by MSK-IX with its stand located at Booth 904, Hall 8.
Medialogistika is a platform for ground signal distribution from broadcasters to TV operators.
«In 2018 we expanded our coverage. Now Medialogistika services are available from Paris to Vladivostok. We also have a new one, Playout – a cloud service for TV channel formation. It enables the customer to program broadcasting via its personal account and launch a new TV channel in just one day,» Grigory Kuzin, director of the Medialogistika project, said.
Participants in business events at CSTB discussed digital transformation, trends and legislative initiatives. CSTB gives the floor to Russian and international experts, debates and presentations of leading market players. The exhibition program includes 20 themes with 200+ registered speakers.