April 4, 2019
MSK-IX presents innovative peering automation system at 34th Euro-IX Forum
On April 1-2, the 34th Euro-IX Forum was held in Toulouse, where MSK-IX Technical Director Alexander Ilyin presented a detailed report on peering culture and new tools for automating traffic exchange.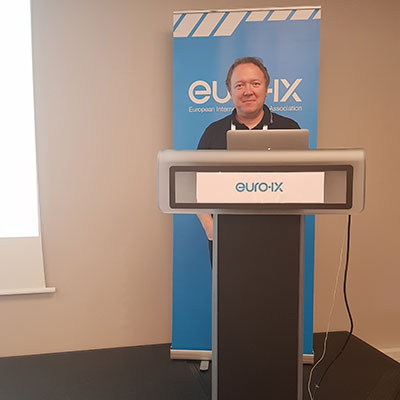 MSK-IX presents innovative peering automation system at 34th Euro-IX Forum
The Euro-IX Forum is one of the largest conferences dedicated to the telecommunications industry and networking, gathering experts and representatives of the IXP community from around the world each year.
Alexander Ilyin, MSK-IX technical director, gave a report on peering culture, in which he spoke about new traffic exchange tools and industry development prospects. He also presented a unique peering automation system developed by MSK-IX.
In February of this year, MSK-IX announced the launch of a new peer-to-peer connection management system. The system greatly simplifies the process of organizing peer-to-peer agreements. Now all you need to do is fill in a simplified form on the MSK-IX website indicating your intended peering partner, after which the system will automatically send a message in Russian and English with a proposal for partnership to the companies of interest.
Thus, the majority of routine work has been automated for participants. This also has to do with the fact that not all large global companies use the route server (a platform that allows for simplifying the interaction between public peering participants, reducing the number of BGP sessions administered during the exchange of route information via IPv4 and IPv6).
The new system will make it easier and faster for participants to create peer-to-peer connections with any global companies, which will improve the speed and quality of internet connections for Russian internet users.
In order to use the new service, register in your personal account on the MSK-IX website.