September 12, 2019
Future of domain names discussed at TLDCON in Vilnius
The section «Is there future for domain names?» moderated by MSK-IX Director Yelena Voronina was held on the first day of TLDCON.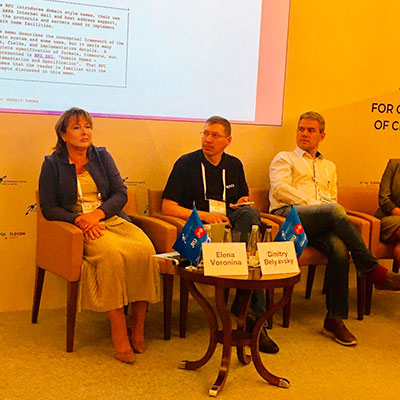 Future of domain names discussed at TLDCON in Vilnius
Experts discussed up to date technologies and processes influencing the field of domain use in the internet industry. They described the ways web apps are used in corporative IT, how IDN mail is useful for the domain market and the connections between DNS and the internet of things.
MSK-IX expert Pavel Khramtsov talked about the operation principles of modern services and noted that the internet today did not stop at WWW but included many services and functions, many spheres of live could not do without anymore.
After Pavel's speech, there was a videoconference with IoT Association Director Andrei Kolesnikov, who gave a presentation about things that have come to life with the internet.
His presentation was followed by one given by Madina Kasenova, Ph.D. in Law (MSSES). She talked about courts and rulings based on law instead of the rules of domain name registration. «Today there is no law regulating domain names in any system of justice, so any decision on the domain in question will be made according to the law of the country where it is made,» she said.
NGENIX General Director Konstantin Chumachenko described ways for organizations working on cloud services to identify current threats to web apps and find resources to protect them.
The section concluded with Dmitry Belyavsky's remarks (Technical Center of the Internet). He talked about the use of .РФ and technical problems related to the introduction of a ccTLD into email services.
The conference will continue on September 12. Its participants will discuss marketing and the secondary market of domain registration.