November 17, 2016
MSK-IX presents Medialogistics project at NATEXPO
NATEXPO, an annual international exhibition and conference focused on technologies, professional equipment and services for television, radio and new media broadcasting and cinema production, opened at VDNKh in Moscow on November 16.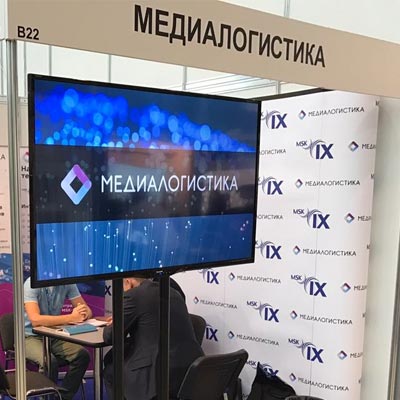 MSK-IX presents Medialogistics project at NATEXPO
MSK-IX will attend the event for the first time to present its Medialogistics project, which offers new television signal delivery and processing services for broadcasters and operators.
The B22 stand will be open throughout the exhibition to inform visitors and participants about the three basic Medialogistics services for broadcasters: one-time broadcasting – the delivery of professional TV signals, including without compression, from the shooting site to the studio; terrestrial distribution of TV channels – transmission of TV programs from the studio to cable and satellite operators; and adjustment of TV channels for online broadcasting.
NATEXPO is organized by the National Association of TV and Radio Broadcasters of Russia (NAT), the largest Russian TV and radio broadcasting companies, and the Federal Agency for Press and Mass Media in partnership with the US National Association of Broadcasters (NAB USA).
Russian electronic media professionals are expected to take part and visit NATEXPO. NATEXPO brings together the producers of new technology, equipment and software and companies in the related areas, such as satellite and cable television, broadband multimedia networks, and digital cinema.
"NATEXPO is where you meet top professionals and companies that need our services. For MSK-IX, this exhibition is a chance to inform professionals on the television market about its Medialogistics project. NATEXPO's goal is to demonstrate the possibilities of future technologies, and our project is fully in line with this trend,"

said Medialogistics project director Grigory Kuzin.