November 9, 2016
Medialogistics project presented at Euro-IX forum
On November 7-8, Krakow, Poland, hosted the 29th Euro-IX biannual forum. Held since 2001, this year the forum marks 15 years since its inception. Over 130 people representing 41 companies and organizations attended the forum, including representatives of traffic exchange centers, hardware manufacturers and software developers, technology experts and other industry professionals.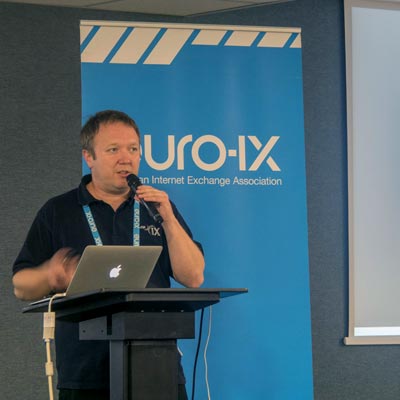 Medialogistics project presented at Euro-IX forum
MSK-IX Technical Director Alexander Ilyin presented the report "Medialogistics: New horizons for traffic exchange centers." He spoke about the company's new project and the opportunities which Medialogistics offers to both network operators and users. Ilyin specifically focused on the response from the operators and users to the new offer. Only a week ago, MSK-IX held a seminar in St. Petersburg on the launch of the new service. Representatives of the majority of St. Petersburg communications and cable TV operators attended the seminar and discussed their expectations, which gave the project a serious boost for further improvement. These findings could be useful not only for MSK-IX but also for colleagues from other countries.
The Euro-IX forum also covered an upgrade of the network infrastructure for traffic exchange centers, interaction between the centers and development of new tools for traffic exchange center operators.
European Internet Exchange Association (Euro-IX) was established in May 2001 to supervise advanced research in the interests of the association members, share experience and improve the IXPs technology. MSK-IX has been a member of Euro-IX since its establishment.