May 11, 2021
MSK-IX reports on IXaaS project's success
MSK-IX Commercial Director Yevgeny Morozov was a key speaker at the Virtual Peering Series – Central Asia, the first event held by the Internet Society, RIPE NCC and Euro-IX. He talked about turning MSK-IX to a multiservice platform and pointed out the success of the IXaaS project.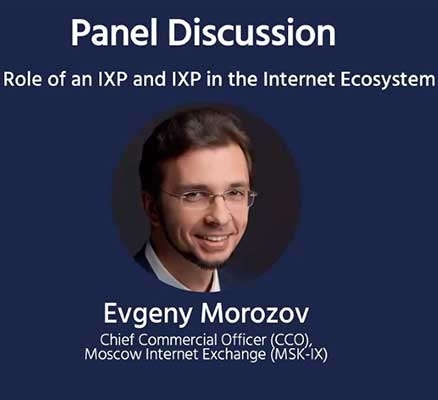 MSK-IX reports on IXaaS project's success
The IXaaS project (IX-as-a-Service), meant to help companies create, expand and maintain their own IX, was launched by MSK-IX a year and a half ago in partnership with Uzbekistan-based company ITI-IX. As is clear from the name, it is based on the principles of a cloud service. MSK-IX acted as a consultant and provided its Uzbek partners with technological infrastructure and technical support, while ITI-IX was fully responsible for everything concerning business and customer relations.
This project is a first for MSK-IX. "One and a half years after the test start, one can say that the project is a success. Further proof is the fact that most of Russian content providers installed their proxy caches in Tashkent after Uzbekistan got its traffic-exchange point. It has given an additional impetus for its growth," Yevgeny Morozov noted.
Currently, Uzbekistan boasts two ITI-IX facilities supporting 100G ports as well as IPv4 and IPv6.
Morozov also spoke about the evolution that MSK-IX has made in its 25-year history. The company has turned from a traffic-exchange point to a multiservice platform offering its clients a wide range of options.
The Medialogistika platform is responsible for establishing, processing and delivering TV channels to operators and internet services. Instanet provides fast and reliable access to cloud platforms and providers of protection against DDoS attacks and IP transit. The authorized DNS-server is designed to support root domain extensions and domains with greater demands for DNS resilience. And all the customary services are crowned by the IXPs.
"MSK-IX vividly shows how big the services portfolio offered by an internet exchange point can be. IX does not mean only peering. It can be the basis for providing new services useful to a large number of companies," Yevgeny Morozov stressed.
The Virtual Peering Series – Central Asia is a series of virtual events aimed to raise awareness of the benefits of peering and encourage the development of IXPs in the region. It is a meeting opportunity for service- and content-providers as well as DNS system operators interested in improving the internet in their countries and regions.