January 21, 2021
MSK-IX Medialogistika Days to be held online on February 17-18
Medialogistika Days, a conference on business at the intersection of the media and telecom industries, will take place on February 17-18, 2021 in the safe online format.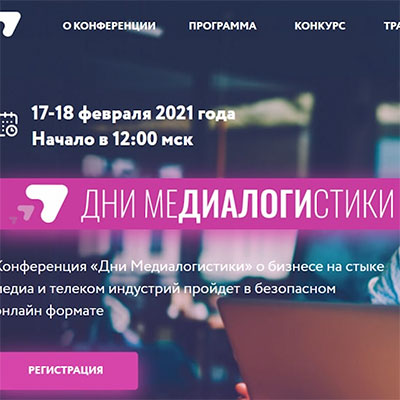 MSK-IX Medialogistika Days to be held online on February 17-18
Today Medialogistika is an MSK-IX platform that has gained significant momentum in four years and is actively developing Russian and foreign content. Now it is easier for broadcasters to build broad television channel portfolios, which makes them more attractive.
The Medialogistika Days program includes presentations, interviews and discussions featuring representatives of foreign and Russian media holdings, national and regional broadcasters, and content makers and distributors.
The conference will focus on the transformation of the media and telecom ecosystems. Speakers will share their real-world experience in launching media projects at telecom companies, internet services at satellite operators, and innovative digital areas at media holdings.
The program will offer a content show with premieres of new television channels and other media brands, an opportunity to exchange best practices in content production and monetization during the pandemic, and practical workshops on how to launch a new channel, lower production and delivery costs, and organize foreign distribution.
MSK-IX, the conference's organizer, has held the Peering Forum (peering-forum.ru) since 2005, bringing together up to 900 participants from the telecom community annually. The idea to hold another media and telecom event, Medialogistika Days, came following the postponement of the industry-specific exhibition CSTB until summer, in order to meet the professional needs of those used to gathering in February.
Register at: medialogistika.online.
Information partners are invited to support the event. All terms are provided upon request.