May 28, 2021
MSK-IX invites everyone to ENOG 18
The annual conference of the ENOG 18 / RIPE NCC Regional Meeting will take place on June 7-8, 2021. Even though it will be held online, MSK-IX will gather St. Petersburg market participants at one venue.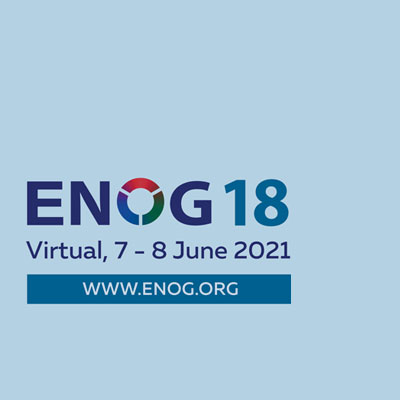 MSK-IX invites everyone to ENOG 18
ENOG (Eurasia Network Operators Group) is the key Eastern European event for experts from the largest global telecom and internet companies. This year the conference will be held online but will host live feeds from studios in Moscow, St. Petersburg, Yekaterinburg, Kiev and Yerevan.
MSK-IX as an ENOG 18 organizer took the responsibility of ensuring the St. Petersburg audience's participation in ENOG 18. Though the event is being held online, it was decided to gather all participants at one venue. Thus, they will not only be able to enjoy the atmosphere of the conference and follow the live stream, but also talk to their colleagues in person.
Participants in St. Petersburg will be able to watch meetings on a big screen, communicate in person, interact with participants in other cities via a chat and ask their questions via Meetecho.
ENOG 18 key speakers are:
- Kevin Meynell, Senior Manager for Technical and Operational Engagement, Internet Society;
- Hans Petter Holen, Managing Director, RIPE NCC;
- Ignas Bagdonas, Network Engineer, Equinix
and other renowned industry experts.
The conference program is being finalized. We will inform you once it becomes available. Please monitor our updates.
It is necessary to register on the ENOG 18 website or email the application to marketing@msk-ix.ru to take part in the venue's work.
The conference will be held in the historical center of St. Petersburg at 17 Tchaikovsky Street. The business program will begin at 12:30 pm Moscow time. Registration at the venue will open half an hour before the conference begins, at noon.
The first ENOG conference was held in Moscow in 2011. Since then, it has been held in various cities and countries. Traditionally, it brings together about 500 telecom and internet industry experts.