May 13, 2021
MSK-IX multiservice platform provides connectivity to Russia's south
In April, the MSK-IX Computer Networks Interaction Center connected its internet exchange points in Rostov-on-Don and Moscow through a core network, thus improving network connectivity by adding the capital of Russia's Southern Federal District.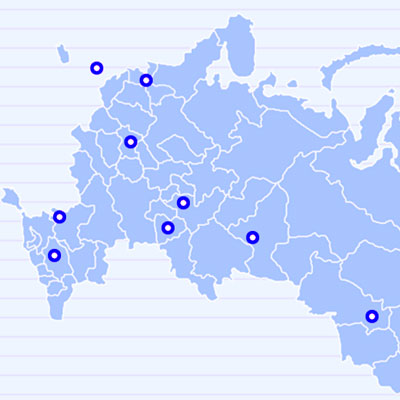 MSK-IX multiservice platform provides connectivity to Russia's south
Rostov-on-Don is a point of attraction for major IT and telecom companies in the region. By providing connectivity to Moscow as part of its network, MSK-IX improved the efficiency, speed and performance of internet/communications for companies in the south of Russia.
The internet exchange points are located in two data centers in the city: Arpnet and Orange Business Services. MSK-IX picked these data centers as its partners due to their high quality of services related to the installation of the equipment and the diversity of national, regional and local network operators, as well as content and the service providers at these centers.
Like other MSK-IX's internet exchange points, the hubs in Rostov-on-Don are based on an Ethernet platform with a capacity of 8 Tbps with 1G, 10G, 40G and 100G interfaces. Twenty-three clients have connected to them, including major network operators, OTT media services and other companies that require network connectivity for their businesses. All clients have access to around-the-clock monitoring and technical assistance. They can also enjoy virtual channels and private networks between MSK-IX platforms (private VLANs), peering with platform participants through the router server with direct sessions (peering VLAN), access to several private VLANs through one physical port (trunk port), integrating several physical ports in one logical port (Etherchannel) and the transparent data transmission of VLAN participants (Q-in-Q tunneling).
In addition, using MSK-IX hubs in Rostov-on-Don clients can connect to the Medialogistics platform where local operators will be able to gain access to a package of over 500 television channels; and regional broadcasters can deliver their TV signals to Russian operators and internet services.
MSK-IX has recently installed equipment to connect to the traffic exchange networks in new data centers under the management of the Data Storage Center in Novosibirsk and St. Petersburg. The Novosibirsk data center, Mendeleyeva-1, has become the company's fourth partner in St. Petersburg, while the data center Zhukova-43 is the seventh platform to which St. Petersburg clients in the MSK-IX network can connect.
"We are coming to various Russian regions and become a point of attraction for local companies. The MSK-IX platform provides network connectivity between various regions, allowing its partners' distributed services to function as a single large organism. MSK-IX supports, unites and serves as a base for the building of an integrated network," said Konstantin Stepanov, Head of Regional Development at MSK-IX.