June 25, 2021
Availability of TV channels on Medialogistika platform reaches 99.99 percent
It is extremely important that a terrestrial delivery signal offer quality and stability regardless of the distance of transmission or the picture ratio.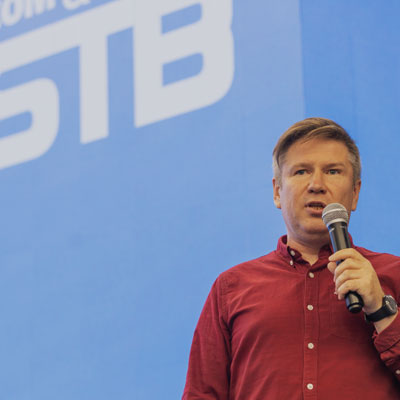 Availability of TV channels on Medialogistika platform reaches 99.99 percent
Television channels from St. Petersburg must come to Vladivostok without interference in SD, HD or 4K resolution. Medialogistika has done a great job in achieving maximum delivery quality.
It is difficult to ensure a high-quality television signal, and if the goal is to achieve the highest SLA (service level agreement), the task becomes a real challenge. Such quality is only achievable if there is total redundancy in all infrastructure components. This is not possible when transmitting a television signal from a satellite or via open internet channels, because there are too many external factors that cannot be controlled. Even when transmitting via optics, through unreserved communication channels, the strength of the TV signal can noticeably degrade.
When speaking at a forum held as part of CSTB`2021, MSK-IX Medialogistika Project Director Grigory Kuzin talked about how a terrestrial distribution platform ensures the highest availability of TV channels and how it was built. He noted that the high quality of TV signals is based on several elements including infrastructure, redundancy, technology and monitoring.
The Medialogistika project is based on MSK-IX infrastructure: a company that has been providing high-quality network transmission for 25 year by placing its highest demands on reliability. The MSK-IX network has a double bandwidth reserve, which allows the Medialogistika platform to transmit television channels in any resolution – from SD to 4K – without any loss in quality. "This is a more expensive approach, but the company makes additional investments to ensure that the network bandwidth is sufficient to deliver TV signals even during peak hours for the sake of quality," said Grigory Kuzin.
The traffic prioritization system introduced at MSK-IX also helps increase quality. Thanks to this, Medialogistika television signals are delivered as a priority, even via data transmission channels where bursts of traffic can occur.
Another method to ensure the highest SLA is to reserve telecommunication channels not only by their maximum capacity but also for their transmission routes. For example, Medialogistika uses optic channel subcontractors created through alternative routes to Novosibirsk. If any problems occur on one telecommunication channel, the TV signals can be sent along an alternative route. It is important to note that this quality is guaranteed by Medialogistika's 40 hubs located in all Russian federal districts.
In addition to channels, the platform's nuclei are reserved. The main network nucleus is located at MMTS-9 in Moscow where MSK-IX's datacenter is located, M9.Plus. But there is also a reserve nucleus in the datacenter at Kurchatov Institute.
The most difficult task is to ensure high-quality TV signal transmission over extra-long distances, for example, from St. Petersburg to Vladivostok (9,600 km). This challenge becomes serious when delivering signals in 4K with H.265 codec. This codec turned out to be much more sensitive to data package loss when transmitting over extra-long distances. The longer the fiber-optic communication channel is, the more likely it is that some data packages will be lost, which can ultimately affect image quality. But the farther from Moscow, the fewer fiber-optic lines there are, and thus general channel capacity drops, which results in an inevitably growing load on the network. The loss of just a couple of packages when transmitting a 4K signal with H.265 codec results in picture dispersal. Medialogistika experts solved this problem by introducing a correction system and installing the necessary equipment in Khabarovsk and Vladivostok. This also required broadening telecommunications channels to transmit additional volumes of data, which resulted in seamless TV signal delivery to the Far East, including 4K.
The signal quality monitoring system is one of the fundamental elements of Medialogistika; it was introduced five years ago when it was created. It is a complex solution that includes three levels of automated monitoring: network level, multicast stream level, and the content level itself. Visual monitoring and quality control are additionally used for especially important broadcasts. However, the company only uses this in exceptional cases. For example, when broadcasting 2020 EURO matches, maintenance specialists additionally monitor the quality of the broadcast with their own eyes.
Medialogistika's clients and technical partners have personal accounts where all data monitoring is available. They are completely transparent, and if there is a problem along any route, it will be reflected in the personal account.
"Over the last five years, we have ensured monitoring not only in Moscow, like other organizations do, but we are also constantly expanding the distribution system of the monitoring. We can see not only the quality of the signal sent from Moscow but we can also monitor it at remote Medialogistika hubs," Grigory Kuzin noted.
All of this makes it possible for Medialogistika to deliver over 1,500 TV signals of – 90 percent of federal and themed channels – to carriers all over Russia with a 99.99 percent guaranteed level of availability.