September 22, 2021
Pavel Khramtsov discusses domain statistics
His presentation took place at the 14th International Conference for ccTLD Registries and Registrars in the CIS, and Central and Eastern Europe (TLDCON 2021), organized in partnership with MSK-IX.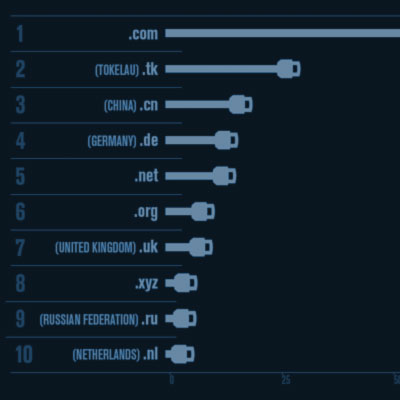 Pavel Khramtsov discusses domain statistics
Head of DNS projects at MSK-IX, Pavel Khramtsov, started his presentation by saying that when dealing with domain statistics, it is essential to understand who orders, consumes and who supplies them since this might warrant both the methods for data collection data and interpretation.
As an example, he referred to Verisign data on the number of TLD registrations that show that two domain zones, .COM and .TK, lead the pack by a significant margin, having reported 157 million and 24.7 million registrations, respectively, while .RU ranked ninth with 5.7 million registered domains. On the face of it, these data may suggest a somewhat grim outlook for the .RU zone, since it is unlikely to come anywhere near the indicators demonstrated by the .COM domains back in 2000, when there were over 8 million registrations in this zone. However, a deeper dive into the data reveals that this isn't the right benchmark, since entities from all over the world, including Russia, use the .COM domain names, while only Russian registrants opt for .RU domains. The very fact that Russia's country-code domain has made it into the global top 10 demonstrates that its outlook is not as bad as it may seem. In fact, all the surrounding factors have to be taken into consideration when sifting through data instead of taking them at face value.
The same applies to Verisign quarter-over-quarter registration data. If we look at Q1 2021, total registrations across all domain zones was down by 2.8 million compared to the previous quarter, which may sound like a lot, but in fact it's only 1 percent of the total number of domains.
Of course, domain statistics are not limited to data on the number of websites registered in various zones, or whether these figures are growing or declining. It also includes a diverse mix of data on registrars, location, reliability, accessibility, response time and domain name cost.
The potential consumers of these data can be divided into several categories: internet users, corporate clients, DNS providers, registries and registrars, cyber-squatters and researchers.
Ordinary users do not need advanced statistics. What matters the most to them is that the websites they use work properly. When users cannot access a webpage or connection speeds drops, they start complaining, and have been increasingly inclined to do so of late. Still, only advanced users who value speed, reliability and privacy refer to domain statistics. They also tend to share these data and actively discuss them.
However, even these numbers can be misleading. Website access delays may not be constant or persistent. It all depends on where the service is located and how it is measured. Looking at average global loading speed is one thing, but Africa, taken separately, is another. For this reason, these data may also vary.
If we take an impartial look at the reliability and accessibility data, we see that not a single DNS service offers 99.99 percent accessibility. This means that what the internet environment can offer lags far behind current telecom standards, which matters for corporate clients as data consumers. They have a very different set of requirements regarding reliability, response time, geographical location and a plethora of other parameters relating to online services, and this information must be readily available to them.
DNS providers are the next category of data consumers. What matters for them is having detailed statistics on servers and their performance, including processing speed, working temperature, RAM usage, etc. All this must fit into the framework for supplying, collecting and processing data on DNS services.
Registries focus on promoting domain zones and making sure that they have a good reputation. For this purpose, they offer statistics on the number and time of new registrations, renewals, delegations and deletions. These data reflect the vitality of a domain zone, whether it is popular, and whether its registry remains relevant.
To boost the reputation of their domain zone, registries release data on the number of phishing attacks, malware, spam and other malicious activity, and track these data over time. Otherwise, it could attract the ire of ICANN or law enforcement agencies, should any incident occur.
Registrars can obtain the same kinds of statistics as registries, plus full domain information from Whois History. They also provide additional data to customers taking part in auctions or seeking to intercept dropping domains, and offer domain stores so their customers can make informed decisions.
Auctions raise the specter of statistics monetization, which leads to cyber-squatters. We can understand the scale of this market by looking at the data on who has the most registered domains. Cyber-squatters make active use of statistics on recommended prices, demand for various names depending on the domain zone, and whether they can be sold at a profit.
Researchers were the last category of statistics users mentioned by Pavel Khramtsov. This group includes scientists, sociologists and marketing experts who crunch market data to identify patterns and draft reports for specific customers, as well as for those willing to pay for this kind of research.
The marketing of these research papers poses the biggest threat in terms of spreading inaccurate or slanted data. Customers may be seeking to obtain data that fit their specific agenda rather than provide unbiased insight into the segment. Marketing professionals may also seek to exaggerate the significance of certain trends while overlooking factors that do not support their projections.
"Domain statistics will always stay relevant and important. It is essential that they remain impartial and not be biased toward the companies that supply them. If you want your data to be more or less accurate, you must rely on several sources, and make sure that there are independent data suppliers among them," Pavel Khramtsov said to conclude his presentation.