June 7, 2021
MSK-IX brings together St. Petersburg telecom market at ENOG 18
The first day of the ENOG 18 / RIPE NCC international annual meeting united telecom and internet experts online and offline.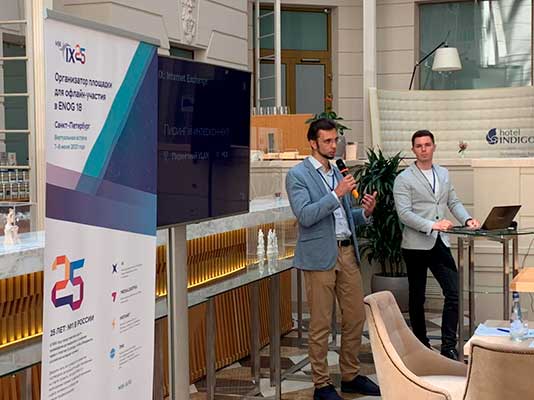 MSK-IX brings together St. Petersburg telecom market at ENOG 18
June 7 marked the first day of ENOG 18. Due to COVID-19 restrictions, its organizers have decided to hold it online. However, efforts by the regional partners partly compensated for the impossibility of gathering all the participants in the traditional format. Platforms were organized in Moscow, St. Petersburg, Yekaterinburg, Kiev, and Yerevan, where representatives of the local market could gather to watch the live stream of ENOG 18 together.
MSK-IX organized such a studio in St. Petersburg. Thanks to this, local participants were able not only to watch the live stream but also to talk to their colleagues in person.
The first day's program opened at 12:30 pm Moscow time with remarks by MSK-IX Commercial Director Yevgeny Morozov and its Director for Regional Development Konstantin Stepanov. They spoke about each of the four projects involved in the MSK-IX multiservice platform: the traditional Internet Exchange; Medialogistika, which was responsible for forming, processing and delivering television channels to the carriers and online services; Instanet, which provided quick and reliable access to cloud platforms and protection from DDoS attacks, and IP transit; and an authorized DNS server necessary to support the root domain zones and domains with increased requirements for fault tolerance.
Separately, MSK-IX representatives announced that the company had started providing services for connecting to a traffic exchange point in full compliance with the relevant amendments to the law On Communications.
"We are very happy to meet with our colleagues offline after a long break. Today we have managed to combine two important things in one go: to create a platform to hold ENOG 18 in St. Petersburg and to hold a meeting with MSK-IX network members in the Northern capital," Yevgeny Morozov said.
"I am always glad to attend an event where I can meet my colleagues and discuss professional issues. I am doubly glad during such a lack of live communication, which we have been experiencing for a second year now. Thanks to MSK-IX and ENOG for the organization and such an interesting conference program," said MSS Chief System Engineer Vladimir Shevkunov.