MSK-IX
/
News
/
Medialogistika Days focuses on building proprietary OTT services and replacing TV with internet
February 18, 2021
Medialogistika Days focuses on building proprietary OTT services and replacing TV with internet
Medialogistika Days, an online conference organized by MSK-IX, kicked off on February 17.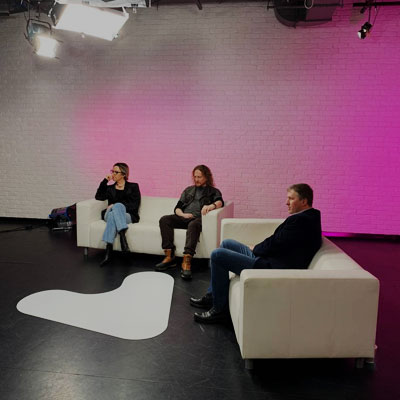 Medialogistika Days focuses on building proprietary OTT services and replacing TV with internet
Medialogistika Project Director Grigory Kuzin opened the event. "It took us several years to get here. It started in 2017 with the first Medialogistika event, a themed session at another industry conference, the Peering Forum. We realized that our target audiences do not exactly overlap, as the telecom conference did not have enough representatives of the media industry. Since the CSTB telecom and media fair has been rescheduled for summer, we decided to hold Medialogistika Days to please the professional community, which is used to getting together and touching base in February," Grigory Kuzin said.
Polina Zimina (eTVnet) spoke about the changes on the media landscape in 2021. She particularly noted telecom companies' inevitable move toward media services and quoted advertising budget statistics, according to which internet ad funding continues to prevail over television ads for the third consecutive year. She also listed major 2021 trends such as the further growth of VOD, the crisis in the existing system of media measurement, the transformation and diversification of media businesses, the emergence of new monetization models for media assets, audience fragmentation, content oversupply and lower subscription fees.
Konstantin Smirnov (NTV-PLUS) covered market stagnation and reported that adding new subscribers and losing old ones is always a simultaneous process. He quoted more telling statistics. For example, people no longer download movies but rather watch content online – whenever they get free time, especially in traffic, during their daily commute and even while using the bathroom. Notably, OTT services did not steal the audience from ordinary television and cable channels; however, paid TV providers are developing their own OTT platforms in order to target wider audiences and meet different demands.
Grigory Lavrov from Media Alliance spoke about diversifying content monetization. He specifically highlighted some of the most relevant among the new monetization schemes: launching aVOD, selling ads on Eurosport, focusing on ULTRA HD content, and focusing on sponsorship deals, exclusive themed channels and new products, to name a few.
The first day's program continued with a debate, "Is SDI alive? Evolution of television delivery and processing formats at production and broadcasting stages," moderated by Medialogistika Project Director Grigory Kuzin. Discussion participants included leading telecom and media experts Grigory Uryev (Rostelecom), Valery Krylov (Synterra Media), Yulia Shakhmanova (STV) and Boris Yurin (Ateme).
The experts reviewed the general state of the media and telecom market, and looked back on the FIFA World Cup in Russia, when companies were challenged with broadcasting a top-quality signal from stadiums to viewers at home. Grigory Uryev (Rostelecom) noted that international operators spared no expense on signal delivery and all Russian services did their absolute best. Valery Krylov (Synterra Media) also shared his memories of the World Cup and spoke about the incredible technology employed during the championship and how broadcasts of this level of responsibility were a tremendous experience for the company. Boris Yurin from Ateme (France) spoke about the abundance of various signal delivery chains. All of them are legitimate, providing equally high image quality regardless of delivery method. Yulia Shakhmanova (STV) reported that STV relies on both conventional and advanced technologies depending on whether the price is reasonable and the quality is up to standard.
The discussion participants agreed that SDI is still alive and kicking, but when it eventually runs its course, it will be a gradual and natural process that will raise no questions. Moving on to the topic of import substitution, the participants noted that if Russian equipment conforms to global standards but is only slightly more expensive, companies in Russia will prefer to operate locally sourced hardware.
Business and Content was another conference section that attracted engaging speakers.
Ivan Kleimenov (Mediascope) reported on developing an audience measurement system for video content. There are several ways to measure traffic, and thanks to extremely well-defined segmentation, it is possible to see what type of devices viewers use to watch content and when. The speaker also noted that, despite all the pessimistic predictions and fears that more TV viewers would migrate online, statistically, TV is still the number one mode of content consumption. The latest trend is higher fragmentation, while movies and TV shows are the most popular type of content by a significant margin.
Gulnara Umryayeva (MBG) presented the report "From VOD to a Television Channel," in which she reviewed viewers' preferences and how they have changed from 1940 to this decade. She pointed out that we are currently in the epicenter of global transformation toward the dominance of popular science, educational content and entertainment.
Yekaterina Yakushenko (THEMA RUS, Love Nature) spoke about the popularity of 4K with subscribers and noted their keen interest in image quality during the pandemic, which helped 4K wildlife channels gain their own regular audience. The demand is there; however, networks are not ready for 4K, which the pandemic clearly proved.
The discussion "Content in quarantine: Changes in life and shooting regime over one year of remote work" continued the first day of the conference. The discussion brought together quite a group of diverse speakers, including moderator Sergei Simakov (Rabotniki TV), Alexander Armer (actor), Oksana Barkovskaya (Format TV), Nikita Trynkin (Star Media) and Andrei Mamontov (Russian Media Group), for a lively, multifaceted dialogue. The participants recalled the media industry's first response to the pandemic and the swift changes it made to adapt to the new reality. They spoke about their companies realizing that their employees' productivity was many times higher than they had thought before, and how the industry dealt with projects amid restrictions and the strict lockdown.
Irina Shlenkina (Ufanet) reported on the launch of telecom companies' own media projects and explained why Ufanet needed its own television channels.In her presentation about Ufanet's own TV channels, Irina made a case for increasing loyalty and expanding the customer base thanks to new television projects. This is what prompted the company to launch a local news channel and a wildlife channel in Ufa. The company gained its own loyal audience and attracted new customers.
Viktoria Bubnova (MIC Izvestia) shared effective marketing secrets for television channels and streaming services. One of her recommendations was to focus on SMM for services, products and media, as well as to concentrate on different goals and aspects that are key to achieving those goals. Viktoria also debunked some myths about social media audiences.