April 23, 2021
MSK-IX explains the role of traffic exchange points in telecom ecosystem
MSK-IX Commercial Director Yevgeny Morozov attended a roundtable, Data Centers, Internet Exchange Points and CDNs, held as part of the business program of the 12th International Conference "Transport Networks Russia & CIS: Transport Telecommunication Networks Development in Russia and CIS," organized by ComNews Group.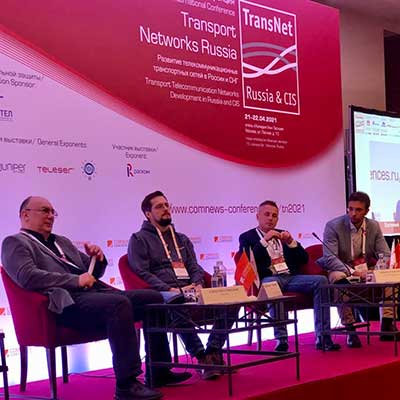 MSK-IX explains the role of traffic exchange points in telecom ecosystem
Among other issues, the participants in the roundtable, which was partnered by MSK-IX, discussed the importance of placing IXPs in data centers and the role IXPs played during the pandemic.
Yevgeny Morozov noted that MSK-IX is not just a traffic exchange point, but multiservice platforms that help companies develop networks and online services faster and at lower costs, providing access to Internet eXchange, service platforms and data centers.
As for IXPs located in data centers, Yevgeny Morozov is confident that the more IXPs located in a data center, the better. According to him, any data center is assessed by several criteria – its infrastructure reliability, location, including local communication channels, and the presence of operators on site.
"Clients using a data center are interested in having as many telecom operators and traffic exchange points as possible. This increases connectivity, ensures the best cost of services, and offers a choice. A traffic exchange point is an excellent partner for any data center," Yevgeny Morozov added.
The pandemic, which led to a significant increase in traffic, also showed that IXPs are an important element of the global network. According to Yevgeny Morozov, "IXP is infrastructure that helps quickly address a sharp peak in traffic, because it has a large margin in terms of potential load on the network. Capacity at traffic exchange points is sold by ports, and the average port load on the MSK-IX network is about 50-60 percent. This means an IXP participant can double their traffic at any time. Additional ports are always available, if necessary, and set-up takes 24 hours after the cross-connect is ready."
"Last year showed that IXPs played an important role in the structure of the internet all over the world, and all participants of the telecom ecosystem could appreciate it. Traffic exchange points are indispensable in an emergency, when the network capacity needs to be quickly increased for traffic exchange," Yevgeny Morozov emphasized.