September 7, 2021
TV signal delivery trinity
MSK-IX Medialogistika Director Grigory Kuzin has attended the Cable and Media Industry Conference. During his presentation, he spoke about today's television signal delivery modes from the broadcaster to the operators, and explained their main differences.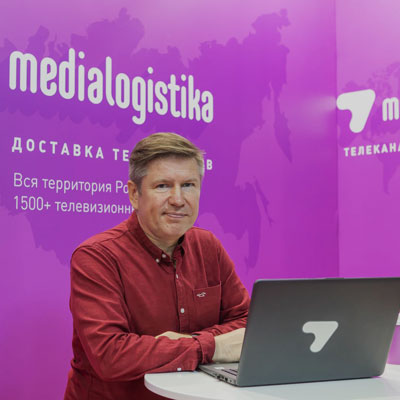 TV signal delivery trinity
Grigory Kuzin took the floor during the session titled "New rules of the game: Strategies of TV channels. Will linear channels survive in the new market reality?" Mr. Kuzin started his presentation by pointing out that statistics from the Medialogistika platform offers a clear answer to the question whether linear broadcasting will survive. In fact, more than 10 new television channels joined the platform over the summer months, suggesting that linear television continues to thrive and remains popular among consumers.
Launching new channels is also easier, since the cost of launching them has been decreasing in recent years, while new opportunities emerged, including streamlined ways for delivering content to subscribers. Just 10 years ago now, a broadcaster could expect to spend as much as $20,000 for distributing a new channel via satellite, but now these initial costs declined almost ten-fold. Not that long ago, the conversation on the market was limited to discussing the pros and cons of satellite versus cable, but now internet offers a third distribution channel. It has to be stated from the outset that in Mr. Kuzin's presentation, cable distribution meant using optical fiber transmission systems and dedicated communication channels. The internet cannot be regarded as distribution via cable, since apart from cable access, mobile and satellite broadband services are rapidly developing.
Of the three delivery modes, there is no single ideal solution. They can be used separately, or supplement each other. The choice of the method for delivering the television signal will vary on a case-by-case basis. The delivery of a television signal from a stadium to a Russian broadcaster provides a straightforward example. The first case will be a NHL broadcast, the second one will be a broadcast of a Kontinental Hockey League game, and the third one a Football National League match. For an NHL broadcast from North America, in most cases receiving the signal from the satellite would be easier, while optics would do a better job for KHL, since all the arenas have a fiber optic connection, which may not be the case for stadiums hosting Football National League matches, and this is where the internet may come in handy.
Grigory Kuzin went on to cite a case combining all three delivery methods: a correspondent shoots a report using a mobile phone and sends it to the broadcaster, while the broadcaster transfers the signal to a satellite operator via optical fiber, and subscribers get this content via satellite. Of the three, satellite remains the most expensive signal distribution method, although competition with cable networks has forced satellite operators to reduce their pricing. Internet provides the most cost-effective method, although content quality and protection against piracy are its weak spots. Optical fiber provides the best value for money.
Medialogistika specializes in optical fiber, but is also proactive in developing content distribution through the internet. For broadcasters, this hybrid approach is the best solution, since once their signal reaches Medialogistika, they no longer have to think about the optimal way of delivering it to specific operators. Working with specific operators, Medialogistika specialists determine which delivery method will offer the best solution in each specific case.
In itself, the technology to use the internet for delivering television broadcasts existed before, but it is only now that this solution can be viewed as being on par with satellite and optical fiber communications. It is with the development of a new protocol, SRT, that a professional TV signal distribution solution emerged. It provides a reliable and quality delivery method with a shorter lag. "I keep saying that no matter how wonderful the protocol, the internet remains an open data communication environment, which means that it is impossible to guarantee signal delivery quality," Grigory Kuzin pointed out.
Nevertheless, Medialogistika launched a new service dubbed TV LIGHTWAY for streamlining television signal delivery via the internet when using optical fiber is too complicated or impossible. This is a great solution for regional television networks that need to deliver their signal to Moscow or even to foreign operators.
"For example, if a Russian broadcaster sells the rights to its channel to an Argentinian operator, we can provide for content delivery on a non-recurring basis. Overall, Medialogistika currently has the capability to deliver the television signal to 6,000 cities in 110 countries around the world," Grigory Kuzin concluded.