April 13, 2021
Media Logistics Hour to bring together media and telecomms experts
On April 20, 2021, MSK-IX Co. will hold a roundtable discussion called Media Logistics Hour: Internet Era Television Channels, as part of the Tele Multi Media Forum conference.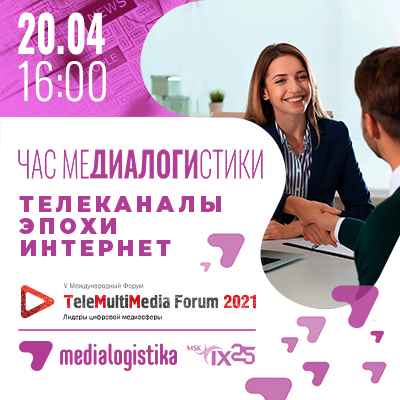 Media Logistics Hour to bring together media and telecomms experts
Russia's paid television market is living through difficult but interesting times. On the one hand, this country has an unprecedented number of free television channels everyone can use. On the other hand, VOD and UGC services are developing rapidly and depriving television networks of many young and middle-aged viewers.
Nevertheless, the number of themed television channels continues to increase. Although none of them compares with federal giants in terms of coverage, the themed television segment is quite imposing. According to a TMT Consulting report, the nationwide penetration of paid television services exceeded 81.5 percent in late 2020.
The threat posed by online services seems real. The industry should merge and draft a common development strategy that would include active collaboration between media and telecoms market players. This will make it possible to hamper the internet's encroachment on the positions of paid television networks.
Top managers of media and telecoms companies attending the Media Logistics Hour: Internet Era Television Channels discussion will single out market trends and will also be discussing measures to expand paid television network audiences and also ways of monetizing and jointly promoting themed television channels during tougher competition with online video services.
The following participants are expected:
- Alexander Kosarim, Rostelecom Content Director
- Marina Gasparyan, Content Production Director, National Satellite Company (Tricolor)
- Maxim Polukhin, General Director, First HDTV company
- Grigory Lavrov, Media Alliance General Director
- Gulnara Umryayeva, MBG Marketing Director
- Denis Maimistov, Founder of the First Vlogger Project.
Grigory Kuzin, Director, Medialogistika Project (Center of Interaction of Computer Networks MSK-IX), will moderate the event.

The discussion's key themes:
- a 2020-2021 survey of new television channels;
- monetization innovations;
- collaborations between broadcasters and operators;
- online marketing of television channels.

The roundtable discussion is scheduled for 4 pm April 20, 2021 within the framework of the Tele Multi Media Forum 2021 conference at Moscow's Hotel Hilton Garden Inn Krasnoselskaya.
Detailed information on the conference is posted on the website of TMT Conference Co. organizing the event: (https://www.tmtconferences.ru/events/tmm2021/).