June 11, 2021
Golden Ray shines over Medialogistika
MSK-IX's Medialogistika platform has won the Golden Ray award in the category Best Content Distributor. The project received this prestigious prize for a second time in a row.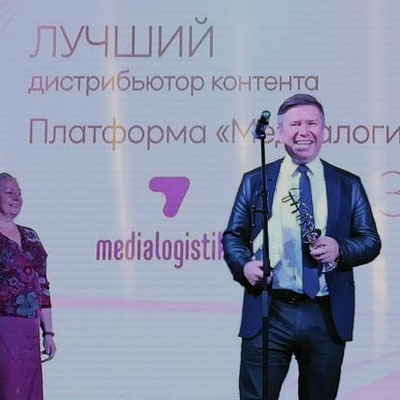 Golden Ray shines over Medialogistika
The Golden Ray award ceremony took place on June 10. The prize was established in 2009 by the National Association of Broadcasters. It recognizes Russian-language TV channels broadcast via satellite, cable and internet both in the Russian Federation and abroad, as well as producers and distributors of television content for non-terrestrial channels.
In 2019, Medialogistika, a platform for terrestrial broadcasting, won the Best Content Distributor category. However, the organizers had to suspend the prize due to the COVID-19 pandemic, and the next contest took place in 2021. This year Medialogistika was among the prizewinners once again.
Hence, for a second time in a row (although two years later), the project was named the Best Content Distributor by the respectable jury, comprising media and telecom experts and chaired by President of the National Association of Broadcasters Eduard Sagalayev. Considering the fact that the prize aims to define the quality standards in the field of thematic television, promote the further development of the industry, and encourage television channels' marketing activities and positioning, the professional community's recognition of Medialogistika's contribution to these processes is especially valuable and motivates the project's team to work even more selflessly for the benefit of the industry.
Medialogistika Director Grigory Kuzin accepted the prize at the award ceremony. Read more about the winners on the organizers' website.