MSK-IX
/
News
/
MSK-IX Director General Yelena Voronina tells TLDCON 2021 why her company matters for the Russian internet
September 15, 2021
MSK-IX Director General Yelena Voronina tells TLDCON 2021 why her company matters for the Russian internet
The 14th International Conference for ccTLD Registries and Registrars of CIS, Central and Eastern Europe, TLDCON 2021, got underway on September 15, organized by the Coordination Center for TLD .RU/.РФ in partnership, among others, with MSK-IX.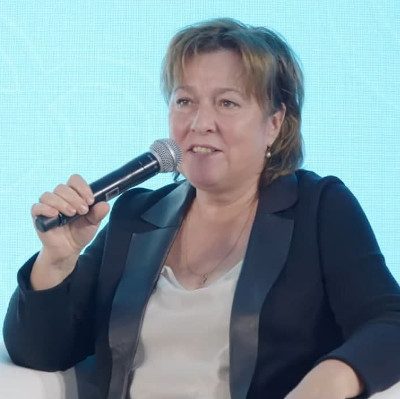 MSK-IX Director General Yelena Voronina tells TLDCON 2021 why her company matters for the Russian internet
During the opening session, Andrey Vorobyev, Director of the Coordination Center for TLD .RU/.РФ, said that his organization attaches great importance to projects designed to enhance the security and the fail-safe operation of the domain infrastructure, including the launch of EBERO, the Emergency Back-end Registry Operator, Data Escrow for country-code domains .RU and .РФ, the Domain Patrol project, etc. He pointed out that in 2021, .RU and .РФ country-code domains had become safer, more reliable and stable.
"Working together with our partners, we've been implementing the most advanced ICANN practices for new gTLDs, as well as for generic domains by organizing a Data Escrow system and creating EBERO, which stands for Emergency Back-end Registry Operator," Mr. Vorobyev explained.
These projects offered additional operating safeguards for.RU and .РФ country-code domains. If something happens to the registrars or the Technical Center of Internet (TCI), which operates the registries, they can be immediately reset without losing any data. In these projects, the Coordination Center teamed up with MSK-IX, the only ICANN-accredited Data Escrow operator in Russia.
MSK-IX Director General Yelena Voronina took part in the TLDCON 2021 opening plenary session, and devoted her presentation to the role her company has been playing in the Russian internet over the 25 years that it has been in existence, up to this very day.
MSK-IX is a multiservice platform offering its clients a number of opportunities. Its infrastructure includes four core elements. Internet Exchange (IX) is the first component, ensuring traffic exchange and connecting operators for better network connectivity. MSK-IX operates nodes in 10 cities and 42 locations. Peak traffic is just under 5 Tbit/s, while almost in all exchange points connection speed exceeds 100 Gbps.
Just as vital is the DNS platform, the second service on the list of MSK-IX services. It is very important for the company that cares greatly about operating performance and security. The DNS platform for national domains is spread out across 23 locations around the world, including 13 in Russia, with daily traffic of 10 billion enquiries.
"IX and DNS have a long track record of cooperation around the world, which is due to the specific nature of the distribution of DNS information. It needs to be distributed as widely as possible while remaining close to the end users. IX infrastructure perfectly suits these requirements," Ms. Voronina said.
The third platform within the MSK-IX ecosystem has been called Medialogistika. It presents a solution for forming, processing and delivering television signals to operators and internet providers. Medialogistika handles more than 1,500 television signals, making them available to more than 500 operators and internet services across Russia.
The fourth service is called Instanet. It ensures quick and reliable access to cloud platforms, DDoS-attack protection services and IP transit.
Apart from these platforms, MSK-IX offers a number of professional services for the domain industry, including the Data Escrow and EBERO solutions launched in cooperation with the Coordination Center and TCI, as mentioned above. MSK-IX also opened its own data center M9.PLUS at MMTC-9. "Its purpose is to serve the company's needs, as well as our clients and partners," Ms. Voronina went on to say.
Join us during the second day of the conference on September 16. The session titled "New technologies for the domain industry" will begin at 2 pm, and will be moderated by Yelena Voronina. During this session, the leading internet experts, including DNS project manager at MSK-IX Pavel Khramtsov, will discuss the latest TLS statistics and how TLS certificates relate to the DNS system. ICANN representatives will present recommendations and studies on RDAP, as well as the Hyperlocal project.