June 16, 2021
MSK-IX invites everyone to CSTB'2021
CSTB. Telecom&Media`2021 opens its door for guests. MSK-IX invites everyone to visit its stand as well as events of the forum's business program.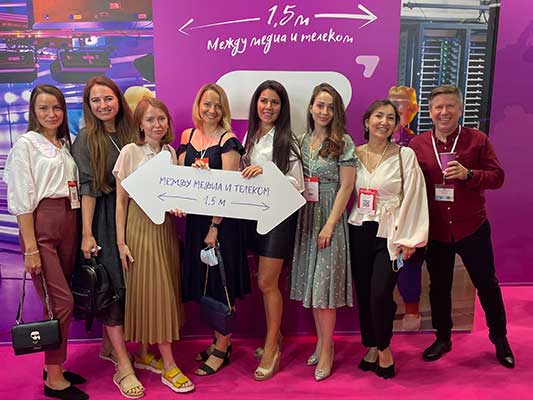 MSK-IX invites everyone to CSTB'2021
Despite the tightening of quarantine measures in Moscow, the CSTB. Telecom & Media`2021 international exhibition and forum opened on schedule. Open to visitors since June 15, its doors will remain open until the end of the main industry event, June 18.
MSK-IX's Medialogistika has not missed a single exhibition since the project's launch. This year we are working under the slogan "Between Media and Telecom", thus not only stressing the meaning of CSTB for these markets but also the important uniting role Medialogistika plays by delivering over 1,500 television signals to carriers and internet services in Russia and its neighbors.
Please come visit our stand, which can be easily found by Medialogistika's logo and colors. Our experts will be happy to present the company, its products and services, as well as discuss topical issues on the media and telecom markets.
Please don't forget the forum's business agenda, which is traditionally very informative and busy. Representatives of regulating bodies and leading companies in the industry will share their views on market developments with the audience, share their experiences and talk about interesting cases.
On the first day of the forum, MSK-IX Medialogistika Director Grigory Kuzin, during the session "Ultra HD formats in the 5G era," delivered a report on "Four years with 4K: Technological expertise and demand dynamics."
Kuzin spoke about how over the last four years the perception of the 4K format has changed as well as the role of UHD content on the media market, which difficulties in processing and distributing it has overcome during that time and what challenges lie ahead.
"Today the 4K format occupies the same spot on the video content market as, for example, Hi-Fi in the music industry. There are audiophiles who only listen to high-quality recordings, but for most people MP3 files are enough. The same goes for 4K. Even when 4K content is available on YouTube or OTT services, the user does not give preference to it just because of the format. Other, completely different criteria are dominating here; 4K is more like an additional bonus," said Grigory Kuzin.
On June 16, he will take part in the roundtable discussion "Monitoring and quality control of the signal", where he will talk about the specifics of national television signal delivery from St. Petersburg to Vladivostok. Please come if you would like to know how to address the problem of how not to lose signal over long and ultra-long distances.
The MSK-IX stand is located in Hall 1, Pavilion 8.
The exhibition layout and the CSTB'2021 forum program can be found on the organizers' website.