September 21, 2022
Roman Zelinsky speaks about MSK-IX priorities
MSK-IX Head of International Development Projects Roman Zelinsky took part in the webinar Internet Exchanges and Neutral Colocation organized by the Carrier Community international telecommunications club.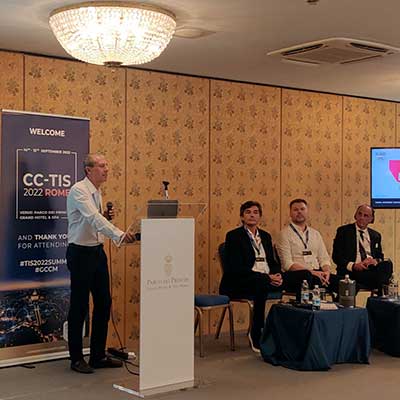 Roman Zelinsky speaks about MSK-IX priorities
Carrier Community (СС) is a global telecom club that serves as an international industry-specific media platform for providers of telecommunication and associated services and products. The club offers a platform for industry representatives for networking, sharing ideas, contacts and other business information.
Participants in the Internet Exchanges and Neutral Colocation organized by CC shared their opinions about the role of internet exchange points (IX) and data centers in ensuring global network connectivity. MSK-IX Head of International Development Projects Roman Zelinsky spoke about the history of MSK-IX and its current priorities.
MSK-IX is the oldest and largest internet exchange in Russia and the CIS, dating back to 1995. It was originally established by six Russian telecom providers that came together to ensure best network connectivity in the country. Today, MSK-IX has more than 850 unique participants in its network, from Russia and other countries. They include not only communication service providers but also content providers and representatives of companies from different sectors of the economy.
MSK-IX today is more than a traffic exchange network. It is a multi-service platform offering a wide range of services to its clients and partners, from network connectivity to delivering media traffic and television signals, as well as installing equipment in proprietary data centers and administering DNS clouds. All these services are based on a distributed network that guarantees both high quality of services and utmost protection of data from external interference.
By cooperating with leading IXes in the world, MSK-IX is deeply integrated with the international telecom infrastructure, thus ensuring high network connectivity and securing access to required services.
Roman Zelinsky stressed that the company's main priorities are innovation and customer-oriented approach. He explained that MSK-IX is implementing state-of-the-art technologies to streamline digitalization of our partners' businesses and maximum protection of their data. The company addresses current requests from network participants and strives to be one step ahead and anticipate their future needs.
"Even if there is no high demand for a specific service right now, we will be ready to provide it in full when requested by a customer. We are not seeking profit but wishing to help every member of the network and provide top-quality service and excellent user experience. I want to specifically stress that the companies we serve are not clients but members of the MSK-IX network in our terminology, as we see them solely through the lens of business relations as full-fledged members of our community. People feel and appreciate this support at every stage of cooperation," Roman Zelinsky stressed.