May 27, 2022
Medialogistika focuses on secure delivery of content
Speaking at TeleMultiMedia Forum 2022, the director of MSK-IX's Medialogistika project said that security had become the key priority in television channel delivery.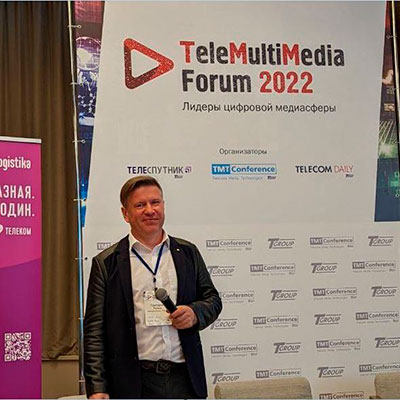 Medialogistika focuses on secure delivery of content
Every year, the TeleMultiMedia Forum: Leaders of Digital Media brings together experts in the production and distribution of digital media content, as well as developers of associated digital services and entertainments to discuss the future of digital platforms and businesses.
As per tradition, forum participants focused on digital platform development trends and current changes in media consumption, as well as on the role of content services in the development of contemporary digital ecosystems.
Director of MSK-IX's Medialogistika project Grigory Kuzin took part in the roundtable, The Conditions and Opportunities for Video Content Delivery in Russia.
He told the audience about the importance of ensuring secure transmission of the television signal.
Since February, some Russian television channels and audio and video services have experienced attacks aimed at manipulating the content. These hacking incidents affected equipment connected to the internet. It means that the signal transmission via the open internet is no longer secure.
The Medialogistika platform has always prioritized security of signal delivery. Medialogistika used to focus mainly on protecting content from piracy. But now, cybersecurity and protection from DDoS attacks are the most pressing issues. MSK-IX has not detected a single breach at the Medialogistika platform that is part of the secure infrastructure that uses fiber optic networks.
The reservation of delivery channels plays an important role in providing customers with secure and uninterrupted access to the television signal. Medialogistika has always been committed to this objective and invested substantial money in the reservation of television signal delivery routes using the fiber optic networks of various providers.
At the same time, the most secure option is when Russian companies are the providers of the main and reserve channels. This is why it has been proposed that these channels go through the Medialogistika and Sinterra Media platforms.
Grigory Kuzin also chaired a session, The New Reality of the Russian Originals Market. Participants discussed how the Russian content production industry has been affected by the withdrawal of major foreign companies.