May 24, 2022
MSK-IX welcomes new era at CROS-2022 conference
The MSK-IX delegation took an active part in the CROS-2022 conference for telecommunications experts that took place on May 18‒21 in Sochi.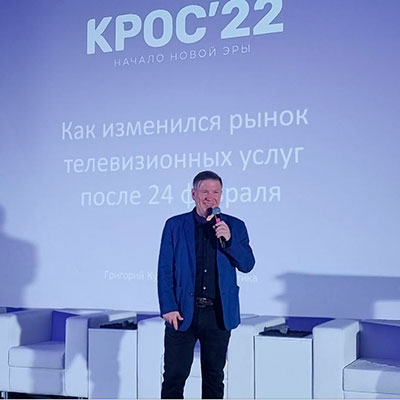 MSK-IX welcomes new era at CROS-2022 conference
The CROS conference is a major business event for the Russian telecommunications market; every year, it brings together over 900 industry professionals. During the three-day conference, participants had the opportunity to attend an event-packed business program, including substantial industry reports, informative workshops and heated discussions, and they also got the chance to productively network on the sidelines of the conference.
As per tradition, MSK-IX was represented by a large delegation. This year, it was headed by Chief Technology Officer Alexander Ilyin, Director of the Medialogistika project Grigory Kuzin and Head of Regional Development Projects Konstantin Stepanov.
The CROS-2022 was dedicated to the beginning of a new era in Russia due to the changed geopolitical situation. Grigory Kuzin delivered a report in which he named the events that had affected the television industry in particular.
Over the past two months, more than 30 foreign television channels have left Russia. Despite the departure of such giants as Discovery, Eurosport and MTV, this loss is not critical in terms of the total number of channels in Medialogistika's portfolio, amounting to only 7 percent. At the same time, new Russian channels such as KinoLiving and SuperGeroi joined the platform. The Boxing TV channel has also joined the terrestrial delivery platform, with an exclusive arrangement.
The onset of a new era also made experts review their approach to signal delivery methods. After a series of breaches of television signals aimed at changing the content, transmission through the open internet has become even more insecure and is at a disadvantage as compared to closed fiber optic networks.
MSK-IX has not detected a single breach at the Medialogistika platform, which is part of the protected infrastructure of MSK-IX, unlike transmission services that use the open internet.
The discussion of the aftermath of the new era continued during a roundtable meeting, Looking for New Forms of Cooperation and Compromises between Communications Providers and Broadcasting Companies in the New Reality. The event was attended by representatives of the leading telecom and media companies and moderated by Grigory Kuzin.
Experts shared their opinions regarding new opportunities that have opened up for the market, strengthening the role of cybersecurity, changing the profile of the audience and its preferences, diversifying service provider businesses and other relevant issues.