June 27, 2022
MSK-IX team wins Football TechnoCup
The victory has brought the team its 28th trophy in the past six years, but the MSK-IX team won't stop there.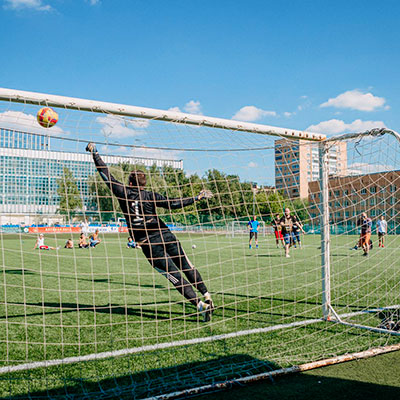 MSK-IX team wins Football TechnoCup
On June 25, Moscow hosted Football TechnoCup which the MSK-IX team won. The team won four matches by a combined 23-1.
In the first match, MSK-IX took Play Telecom 10-0; in the second match, it defeated Intronex 4-0, and then it beat a strong team, ClubCom, 4-1. In the final match, MSK-IX again faced Intronex, a communications provider from the Moscow Region, and won 5-0.
MSK-IX team captain Alexei Kostin, who only failed to make a save once, was recognized as the best goalie at TechnoCup. The MSK-IX collection of trophies – 28 cups and titles won over the past 6 years – can now boast another one.
"We have always taken great pride in participating in various business tournaments. Corporate sports are very useful for networking, and they show the business community that commercial success can go hand-in-hand with football victories. Our important mission is to promote a healthy lifestyle and create a sports-oriented corporate culture in the company," said MSK-IX Marketing Director Alexei Kostin.
He added that participation in TechnoCup, without bias against the tournament, was more of a training meet for the MSK-IX team. The team is now playing in the Business Premier League where it will have decisive matches against very strong rivals. After the season, which started in February, teams will be seeded in brackets in the Business Champions Cup. Those playoffs will start on July 1.
"This is a very prestigious tournament that brings together the best teams who are selected after the regular Business Premier League season. We need to win within our group now so we can face the lowest seed later. But there are no weak teams by definition. It will be a very difficult competition, but also an extremely exciting one," Andrei Kostin said.
The MSK-IX football team comprises employees from MSK-IX and the Technical Center of Internet.