MSK-IX
/
News
/
Grigory Kuzin presents Medialogistika solutions for audiovisual services at MUSE 2022
September 28, 2022
Grigory Kuzin presents Medialogistika solutions for audiovisual services at MUSE 2022
MSK-IX representatives took part in the Multiservice (MUSE) 2022 forum held on September 21-24 in the Moscow Region. Medialogistika Director Grigory Kuzin presented a report on the terrestrial broadcasting platform's solutions for audiovisual services (AVS).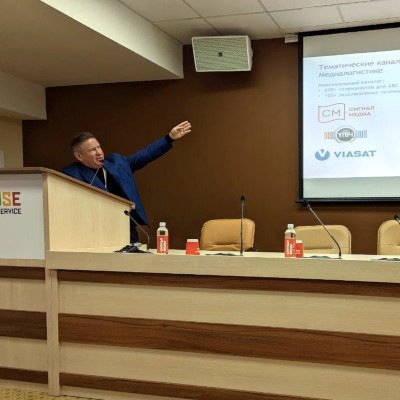 Grigory Kuzin presents Medialogistika solutions for audiovisual services at MUSE 2022
MUSE is one of the largest and most anticipated industry events for Russian media and telecommunications businesses and professionals. Every year, it brings together communication operators and vendors, broadcasting companies and online services, industry associations and regulatory bodies, independent experts and analysts.
The forum's busy and highly relevant program offers reports, roundtable meetings, a content show with business cases, and sections on technical and legal issues. MUSE is also known for its informal events that help the professional community bond and explore more opportunities for productive cooperation.
Fully involved in the event, an MSK-IX delegation set up a stand with Medialogistika brand colors where company representatives happily answered questions about the platform from enthusiastic forum attendees. The project's director Grigory Kuzin presented a report, 'From OTT to AVS: Specifics of Online Streaming in Russia,' and spoke about legally organizing the broadcasting of the first and second multiplex channels via online streaming services.
The legal framework regulating the online streaming of public television channels took a long time to develop and was finally formalized this year.
Although Federal Law No. 261-FZ was adopted on July 1, 2021, the bylaws regulating the official signal source for the compulsory channels included in the two federal multiplexes for online distribution, required more time. Vitrina TV became the designated source.
From now on, the audiovisual services (AVS) listed in the registry of the Federal Service for the Oversight of Consumer Rights Protection and Welfare (Roskomnadzor) are permitted to stream the compulsory television channels using either of the two methods: one is embedding a Vitrina TV player and receiving the signal directly, and the other is using one's own player and receiving the online version of the channels via Medialogistika that delivers signals from Vitrina TV.
Audiovisual services wishing to use their own players must receive Vitrina TV certification.
Online streaming is not limited to federal multiplexes. The Medialogistika catalogue offers more than 600 themed channels available through AVS, including over 100 exclusive channels. Federal Law No. 261-FZ only applies to compulsory public television channels, meaning that AVS can still receive the signal from Medialogistika and stream themed channels using their own players.
"In addition to access to television signals, major Russian AVS order from us full servicing of these channels for streaming to end viewers, which makes Medialogistika an aggregator and part of the content delivery network (CDN)," Grigory Kuzin noted.