November 14, 2022
Grigory Kuzin on eco substitution at ConTech 2022
On November 9, the ConTech 2022. Content and Technologies for Digital TV in Russia conference was held in Moscow, where Grigory Kuzin, Director of the MSK-IX's Medialogistika Project, took part, highlighting a new trend in the Russian media market in his speech.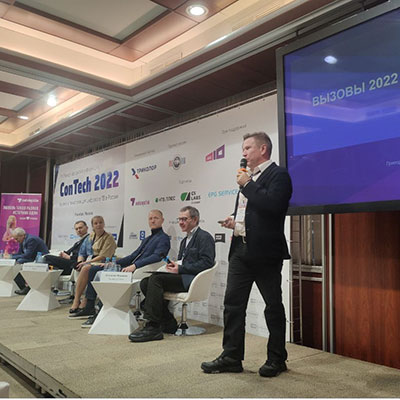 Grigory Kuzin on eco substitution at ConTech 2022
ConTech is held annually by TMT Conference and is among the most important business platforms where the entire complex of the most acute trends, problems and tasks of the Russian digital television industry is discussed comprehensively. Regular participants include representatives of regulatory authorities, Russian and foreign telecommunications and broadcasting companies, telecom operators, manufacturers and distributors of content and equipment, providers of satellite, cable and mobile television, analysts and industry experts.
Medialogistika Project Director Grigory Kuzin attended the Back to the Future: Will Import Independence Become a Driver for the Development of the Digital TV Market? session, in which he shared his conclusions regarding the process of import substitution of consumer devices and content on the Russian media market.
In particular, he singled out a trend that had recently been observed there: large media platforms producing their own branded TVs. After the largest Korean manufacturers left Russia, a huge niche was vacated on the market, which analysts estimate at about 1.5 million TVs. In part, Chinese vendors took advantage of this situation by increasing their share of devices sold. But more importantly, Russian companies did not stand aside. This is not about TV equipment vendors, but about several of the largest operators of digital ecosystems. Directly at ConTech 2022, the Tricolor operator announced the release of TVs under its own brand in December.
"This means that the trend we are observing is more correctly called eco substitution, not import substitution, because foreign manufacturers are being replaced not just by Russian vendors, but by entire ecosystems that will receive additional subscribers with each new TV sold," Grigory Kuzin emphasized.
The second area of import substitution was about content. The example of Medialogistika was used, which reflects the current situation with the range of TV channels in Russia quite well, with more than 30 popular foreign TV channels leaving it this year - about 7 percent of the entire catalog of Medialogistika, and more than 40 coming in, or about 8 percent of the catalog. Of these, about half existed on the market before, but these channels were distributed only via satellite, while the rest are completely new.
Grigory Kuzin also pointed out that the security problem was acute in the media industry. Cases of attacks on TV channels with the aim of substituting content have already been recorded, all of them happening by gaining access to signals via the public internet. Therefore, this method of content delivery is currently the least secure.
There are also problems with TV channels distributed from satellite, as some of them have already fallen under sanctions and have been turned off by foreign operators. Obviously, for this reason, the Signal Media company began to deliver its channels not only via satellite, but also by terrestrial means via Medialogistika.
"Above all, Medialogistika Platform specializes in delivering TV signals via closed secure terrestrial networks. All routes are fully reserved. This is the safest and most reliable method that guarantees the transfer of content throughout Russia," Grigory Kuzin concluded.