June 23, 2022
Medialogistika at CSTB: Love, Vladivostok and ecosystems
The Medialogistika project by MSK-IX has taken part in the exhibition and business program of the CSTB.PRO.MEDIA 2022 forum that took place in Moscow on June 20-21.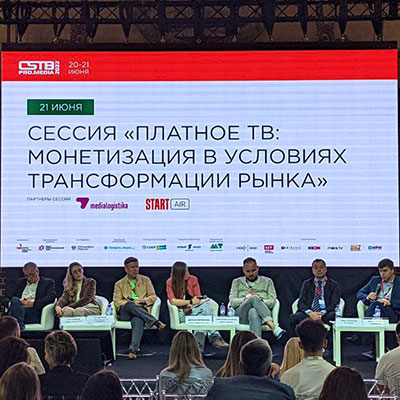 Medialogistika at CSTB: Love, Vladivostok and ecosystems
Since its creation, Medialogistika has never missed a single CSTB forum. This year was no exception. As per tradition, experts from the terrestrial television signal transmission platform not only talked to their colleagues in the telecommunications and media market at the Medialogistika stand, but also took part in three sessions of the business program.
"Love can be different, but it has one source," this was the platform's motto at CSTB 2022. Medialogistika is the "fifth element" that helps to deliver content created with love to operators all across Russia, and then to their much-loved audiences.
During the two forum days, numerous current and potential clients and partners of Medialogistika, who received expert consultations and detailed answers to questions, visited the Medialogistika stand that featured the platform's colors.
On the second day of the forum's business program, Medialogistika Director Grigory Kuzin presented two reports. During the Case Study technical session, he and Operator Relations Manager Anastasia Skudnova used the example of Vladivostok to tell the audience how to optimize signal transmission to any part of Russia.
Medialogistika has hubs in all federal districts of the country, which allows operators in any region to connect to the platform and receive a television signal. The delivery of TV signals to Vladivostok used to be difficult: there are many optical fiber transmission lines stretching to Novosibirsk, providing a big capacity. But there are not enough lines in the sector between Novosibirsk and Vladivostok and it creates a bottleneck effect and transmission errors. In particular, this affects television channels in the UHD format during peak hours.
Medialogistika managed to solve this problem by taking a comprehensive approach. It organized the reservation of transmission channels so that two alternative routes were available. In Vladivostok, it used a hardware/software solution to eliminate errors when transmitting data at extra-long distances. In addition, quality monitoring systems were installed in Vladivostok and along the entire route so that Medialogistika experts and its clients – operators and broadcasters – could detect all parameters of the transmitted signal in real time.
"These measures have ensured a consistently high quality of signal transmission at the platform throughout all regions of Russia, including the Far East," Grigory Kuzin said.
He also told the audience that the withdrawal of certain broadcasters such as Discovery and Paramount-Viacom from Russia has affected the 600-channel Medialogistika portfolio, but the platform promptly replaced them with Russian-made projects. For instance, in mid-June, the catalog included a full package of Signal Media company channels that used to transmit via satellite only. Some 40 channels were added to the catalog, thus compensating for the losses.
Anastasia Skudnova said that it was very easy for any operator to connect to Medialogistika. All that is required is for them to submit an application in any convenient way, then the platform experts will help them select a connection method and assist with any other issues. The entire process from submitting an application to connection takes only one or two days.
"When connecting a new operator to the platform, we give them a trial period of two weeks. Then we sign an agreement. I have not seen any case where after the trial period, someone refused to work with us," Anastasia Skudnova said.
Grigory Kuzin's second report, Diversification: From Video Service to Ecosystem, was delivered as part of the Online Movie Theaters: How the Video Service Business is Adjusting round table.
He told the audience about how important it was for telecommunications and media companies to create video service ecosystems in the current market by adding various additional options to one core service. New options will provide users with all necessary services from one supplier, allowing them to use only one single platform.
By analyzing the projects that have proven themselves on the market, one can detect the parameters of an ideal ecosystem:
- a powerful core service;
- the opportunity to boost the main asset by adding more products;
- each new service should always promote the brand, and increase the value, sustainability and growth of the main asset;
- each new service should keep the user within the key app as long as possible;
- creating its own payment system;
- the ecosystem should be based on its own telecom network (4G, 5G).
"Ecosystems are one of the reasons the media and telecom industries are beginning to align," the Medialogistika director said.
He also co-moderated the panel discussion, Pay TV: Monetization amid the Changing Market, whose participants – leading Russian media market experts – discussed what has changed in the development strategy of the broadcasting business after foreign players left; how to develop and promote their own content today and what new opportunities have opened up for broadcasters in terms of the development of business with operators and online platforms.