September 15, 2022
Grigory Kuzin chairs session at Asia Cable TV 2022
Director of the MSK-IX Medialogistika project Grigory Kuzin moderated the session, Localization of Foreign Commercial Television Channels; State Support; Pioneers' Experience Exchange; Development Prospects at the Asia Cable TV 2022 conference.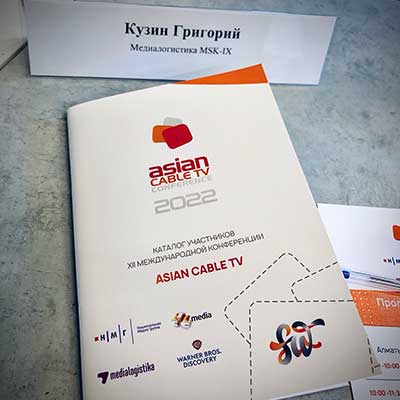 Grigory Kuzin chairs session at Asia Cable TV 2022
The Asia Cable TV 2022 international forum, which took place on September 14-15 in Almaty, Kazakhstan, is a major platform for professional dialogue between television industry companies. The Silk Way Content company is organizing this event for the 12th time; the conference brings together professionals from Asian and other countries.
On the first day of the event, Grigory Kuzin chaired a session devoted to various aspects of the localization of foreign television channels. Among the speakers were representatives of television content distributors and copyright holders, as well as officials from relevant regulating agencies of the Republic of Kazakhstan: Ilyas Yesmagul, deputy chair of the Information Committee of the Ministry of Information and Social Development, and Mikhail Komissarov, Director of the state enterprise Center for Information Analysis.
In his opening remarks, Grigory Kuzin spoke about the causes of the need to localize foreign channels, that is, legal differences in various countries, the need to add local content and advertising, as well as geographical restrictions that copyright owners put on the distribution of content.
The session participants spoke about the measures that need to be taken by a foreign television channel that wants to enter the Kazakhstani market, and the various particular nuances of the process of content localization by broadcasters and distributors.
In conclusion, Grigory Kuzin gave a short summary of the event, drawing on the speakers' reports.
The legal requirements of the Republic of Kazakhstan are quite feasible because the local regulating authorities have not detected serious violations over the past few years. At the same time, the local market participants are interested in unifying the requirements on content localization, for instance, in creating a joint classification of age restrictions for the entire CIS. Representatives from the Kazakhstani state agencies expressed readiness to include this issue on the agenda of a relevant working group.
Even though localized foreign television channels do not have the right to sell and run advertising in the Republic of Kazakhstan, they can still do it by registering the channel in the country.
Since 2016, when the law prohibiting ad broadcasting by foreign channels in Kazakhstan came into force, the Medialogistika platform for terrestrial distribution of television signals has been adapting the content of the channels to the requirements of law by including the necessary parental guidelines and banning the prohibited advertising. Over the entire period, the controlling agencies of the Republic of Kazakhstan have not had any complaints.
Medialogistika also has extensive experience of adapting television channels to the legal requirements of other states.