March 28, 2023
MSK-IX offers new opportunities for its customers and partners
At the Transport Networks Russia 2023 conference, MSK-IX CEO Yevgeny Morozov spoke about the new services the company has recently introduced.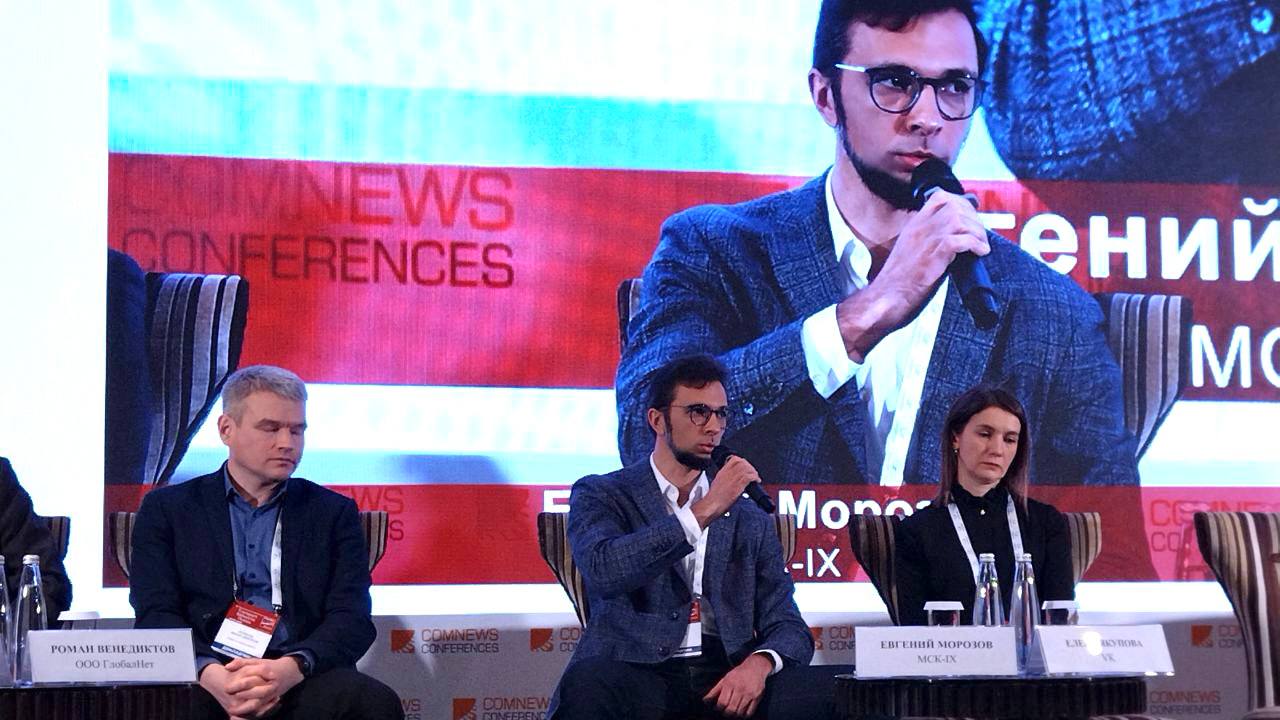 MSK-IX offers new opportunities for its customers and partners
On March 23, ComNews held the 14th Federal Conference Transport Networks Russia in Moscow. Over the past 10 years, the event has become the main business platform where regulators and leaders of the operator business meet, as well as a forum for participants in the Russian market of telecommunications transport networks.
During the conference, MSK-IX CEO Yevgeny Morozov spoke about the company's role in the internet ecosystem and presented new opportunities for corporate customers and partners.
He noted that in 2022, due to objective reasons, there were significant changes in the profile and composition of participants at all traffic exchange points in Russia. Despite the fact that some foreign players have disconnected from the exchange points, the traffic itself continues to grow. This is because foreign content is being replaced by domestic content, and Russian users spend more free and work time on the internet.
Morozov recalled that MSK-IX has been providing and developing services for a long time on the following four platforms: Internet Exchange (IX), Medialogistika, Instanet and DNS. Recently, a number of new services have appeared on each of them.
The IX peer-to-peer platform added a DDoS protection option, as well as the Protected Peer Groups service, which provides peering for a limited group of users in a closed perimeter that meets their security requirements. Given that security has become even more pressing issue over the past year, this service was welcomed by customers and became very popular. The peer-to-peer network also has Blackhole (both with regular and advanced functionality) and BGP FlowSpec.
The Medialogistika platform has been developing for the past six years and is constantly adding new TV channels and operators. This year, MSK-IX launched Medialogistika 2.0, a joint project with Synterra Media that integrated the TV signal delivery networks of both companies. This made it possible to expand the number of cities in which one can connect to the platform from 10 to 82 with a population of 100,000+. At the same time, in big cities, Medialogistika 2.0 provides reservations for TV signal delivery through the use of independent networks of the two companies.
This year, MSK-IX launched another new platform called Mediabaza . This is a B2B project designed for producers and distributors of downloadable content on the one hand, and audiovisual services and TV channels on the other. Copyright holders can upload their content, and customers can choose what they need. After reaching an agreement with the supplier, the customer can download the selected content directly on Mediabaza. In fact, this is a marketplace for any media content.
"As for the Instanet platform, I would like to draw your attention to two services: Fast Link, within which we organize L2 VPN channels for customers on the MSK-IX network, and Cloud Connect, designed to provide guaranteed access to clouds via dedicated channels. These are key services that we continue to develop and attract an increasing number of partners engaged in cloud resources and network security companies," said Morozov.

Within the DNS platform, MSK-IX manages a global DNS cloud that is distributed across all continents. This infrastructure is used by the registries of the.RU, .SU and .РФ ccTLDs, as well as gTLD registries and a large number of corporate customers. The new Anycast DNS service allows for hosting a customer's DNS zones in the global DNS cloud, duplicating infrastructurally the solution developed for state-owned companies, but with additional functionality developed specifically for corporate clients.
It is important that an affiliate program has been developed for Anycast DNS, which allows for reselling it, thus expanding the portfolio of B2B services. Thanks to a specially developed API, clients of MSK-IX partners can independently manage their DNS zones using their client account, thus not giving resellers additional work.
Also, over the last year and a half, MSK-IX has been developing a new DNS solution for mobile and fixed-line operators. In fact, it is a high-performance DNS resolver with advanced functionality and statistics functions.
"MSK-IX is always open to partnerships and collaborations. Many backbone providers, data centers and cloud services are already our partners and resellers. We always welcome new, interesting business ideas; we are ready to discuss them and implement them into projects with both existing and new partners," concluded Yevgeny Morozov.