May 25, 2023
Russian media businesses to get technology ecosystem
Grigory Kuzin shared plans to create an ecosystem of B2B technology services for the media market in his remarks at the TeleMultiMedia Forum 2023: Leaders of the Digital Media.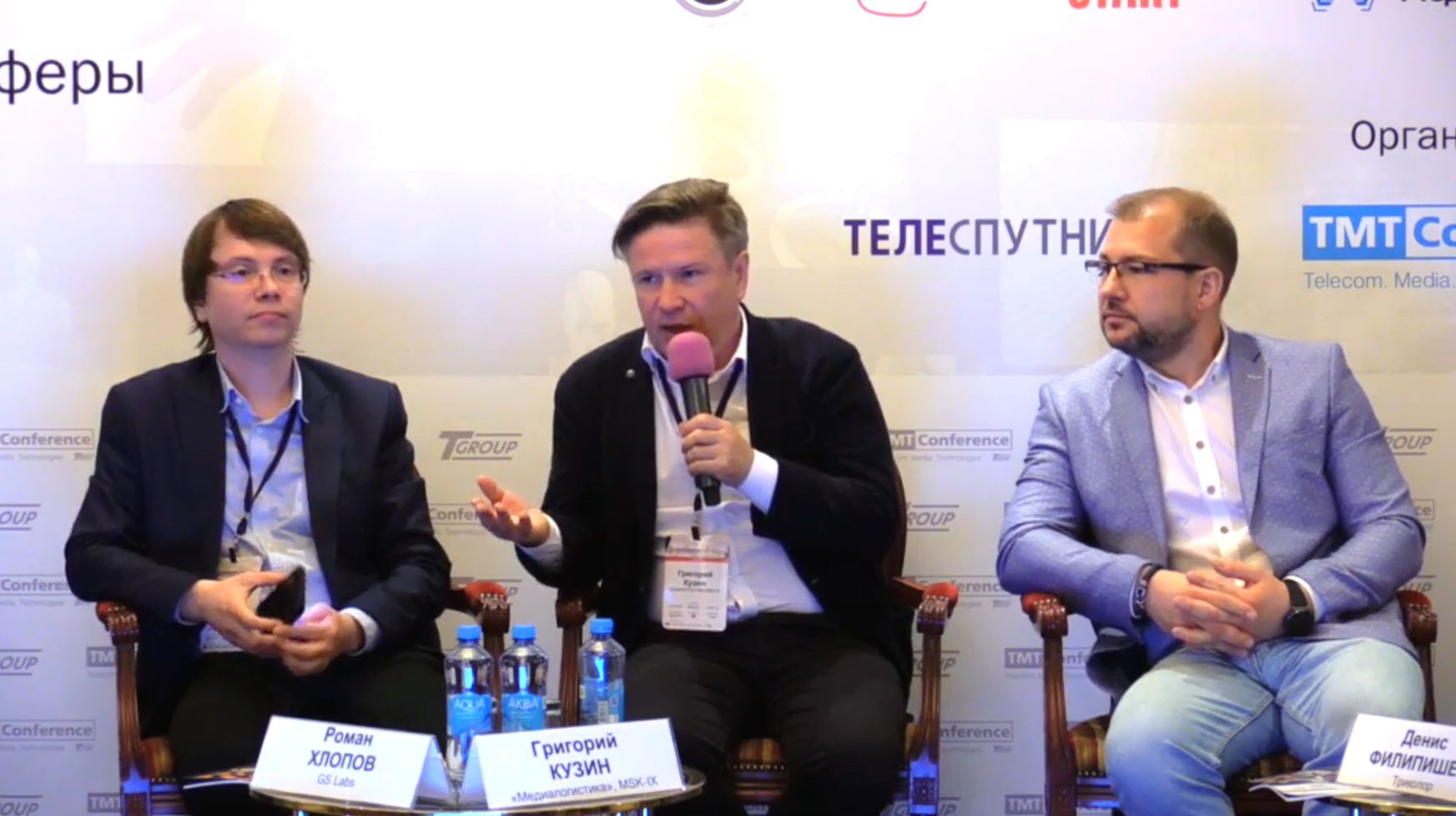 Medialogistika MSK-IX Director Grigory Kuzin
Moscow hosted the 7th TeleMultiMedia Forum 2023: Leaders of the Digital Media, organized by TMT Conference. The forum is an annual business event for media business professionals who discuss trends and the future of media consumption and television viewing in Russia.
During the Video Content Delivery: Platforms, Technologies and Services session, Grigory Kuzin, Director of MSK-IX Medialogistika, spoke about the development of specialized B2B platforms and services that will form an ecosystem for Russian media businesses.
He noted that now is the time when the logistical puzzles of buying, selling and delivering content that have been developed over many years are collapsing. After several major copyright holders left the Russian market, the amount of foreign content in Russian online streaming services dropped. Some foreign television channels also left the country.
At the same time, purely technological changes are also taking place. The existing infrastructure of broadcasters and operators is subject to frequent hacking attempts, and imported solutions are blocked due to sanctions.
In this situation, media companies are reconsidering their approach to building technical and logistical solutions. They can take one of two paths available. One way is to spend time and money on rebuilding their own infrastructure by purchasing new equipment and software, preferably made in Russia, which is a serious challenge. The other way to overcome the current circumstances is to use ready-made technology platforms created for comprehensive work with content, and to focus on creativity and commerce. For companies that choose the second path, there is a comprehensive solution based on several platforms.
The first platform is Medialogistika for the terrestrial distribution of television channels, which was upgraded to Medialogistika 2.0 this year thanks to the efforts of two companies, MSK-IX and Synterra Media. The main goal they have accomplished by combining their content distribution networks is to ensure that the television signal delivery service reaches a scale comparable to satellite operators. As a result, Medialogistika 2.0 delivers a signal to more than 80 Russian cities with a population of 100,000+ via two independent networks. The platform has also begun successfully introducing a more advanced RTP transport protocol, which can significantly improve the reliability and quality of television services.
Together, MSK-IX and Synterra Media also provide broadcasters with a solution to create TV channels, or play-out. Recently, it has enabled completely new channels, Kids TV HD and Curiosity Stream HD, to launch.
Mediabase is another B2B solution for media companies. This is a completely new platform designed to distribute uploaded content. It allows broadcasters and internet services to find new suppliers and build new logistics and commercial chains for the purchase and delivery of films, series and TV shows. Mediabase has various additional functions: technical quality monitoring, transcoding, and auto-filling content cards. The platform makes it possible for distributors to work with content remotely from a mobile device.
"The partnership between MSK-IX and Synterra Media has made it possible for us to aim for an ambitious goal: building a complete ecosystem of technology services that will take over the technical aspects of media companies' work in a one-stop shop so that they can focus more on solving creative and business problems, and do not have to rack their brains over hardware and infrastructure," Grigory Kuzin said.

He gave an example of how this would work. Say for instance, a broadcaster decides to launch a television channel about life on Mars. Using Mediabase, it selects thematic content about Mars. Then, using the same account, the broadcaster can order pre-air preparation to delete unnecessary scenes, compile a playlist and form a cloud-based play-out of the Mars TV channel, which Medialogistika will deliver to all operators.