August 16, 2023
MSK-IX titled IX of the year
MSK-IX won the Internet Exchange Platform of the Year award at TTS.Telecom Awards, a special and valuable award because the winners are chosen by representatives of the telecom community.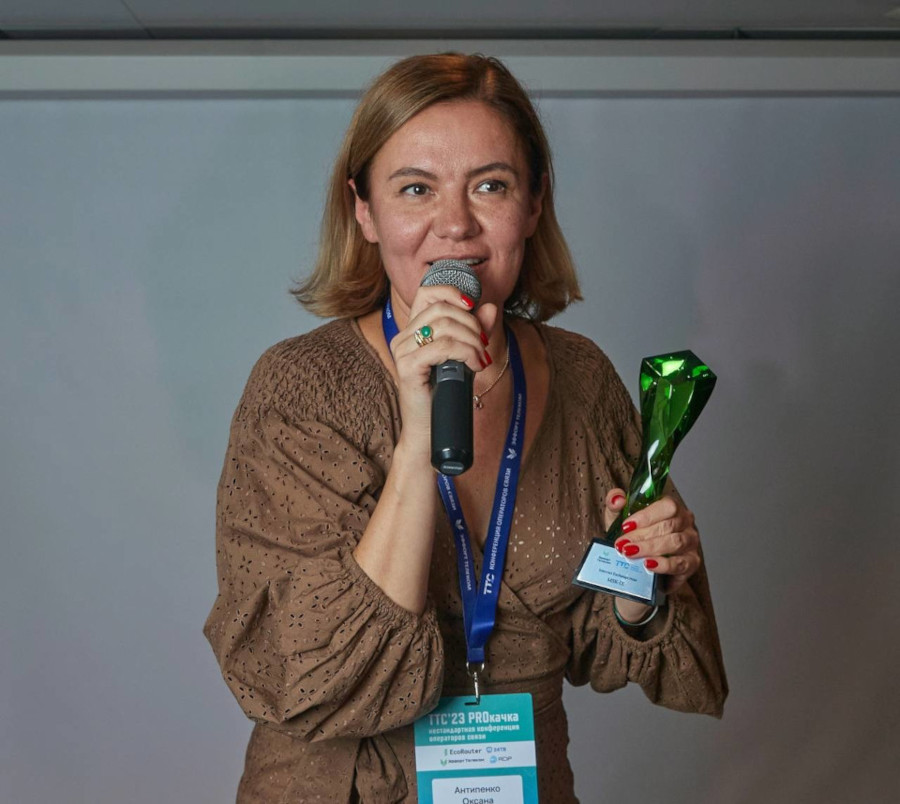 Head Sales Department MSK-IX Oksana Antipenko
The TTS.Telecom Awards Ceremony took place on August 11 as part of the TTS'23 PROkachka conference, one of the top professional events in the telecom industry and a prestigious award organized by Effort Telecom.
MSK-IX was named the Internet Exchange Platform of the Year in recognition of the traffic exchange provider's impressive achievements in the development of internet technologies. MSK-IX was noted by the organizers for providing excellent connectivity, a high level of security, an innovative approach to technology implementation and a wide portfolio of services.
The organizers placed a special emphasis on MSK-IX's leadership in the introduction of new technologies and advanced protocols. Thanks to accurate forecasting and a timely response to changes in the industry, MSK-IX is often the first in the world to apply new advanced solutions. For example, this year, the company implemented BGP Roles functionality on its Route Server, an improvement that brought traffic leak protection to a much higher level. The company's customers include more than 800 entities; the highest peak traffic it handles is more than 5.6 Tbit/s.
MSK-IX's other important achievements include the high reliability and security of its network achieved through continuous technical improvement and infrastructure optimization. The company offers a wide range of services provided through a multi-service platform, which makes it a leading brand in the industry.
Yevgeny Morozov, CEO of MSK-IX, commented: "The Internet Exchange Platform of the Year award is a great honor and recognition of our work and contribution to improving network connectivity and the internet infrastructure in Russia. We are especially pleased because this title is awarded by representatives of the telecom community whom we have been working hard to benefit. We are always trying to improve in order to maintain our industry leadership, providing our customers and partners with the highest level of service."