November 10, 2023
Peering Forum 2023 program released
A preliminary program for the Peering Forum 2023 has been published on the forum's official website. A program committee consisting of recognized telecom and media market experts worked on its formation.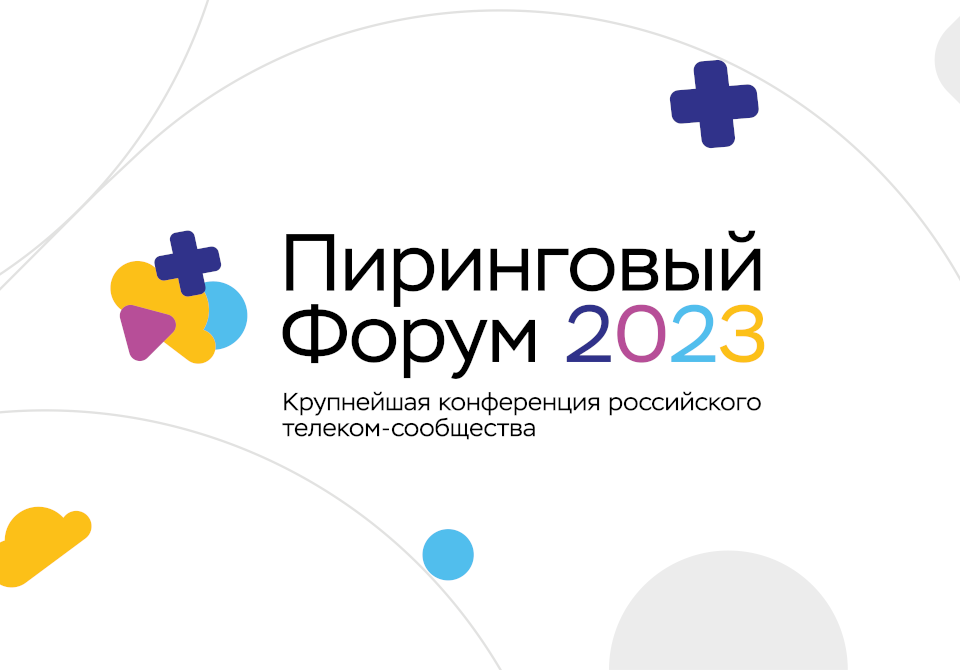 Peering Forum 2023
The program is divided in two tracks, Infrastructure and Network Services, and Video Content+, with analysis reports, panel discussions, roundtable meetings, hands-on workshops and public interviews featuring the top managers of telecom and media companies, representatives of regulatory bodies and leading industry experts.
Infrastructure and Network Services is dedicated to the development of the Russian internet infrastructure, network connectivity, state regulation and other topical issues for the industry.
The track consists of four themed sections:
• Services and Metrics: Technical aspects of building network infrastructure and network-based services.
• Technological Development Strategy: Tools for Future Development focuses on the main growth trends in the industry.
• Mapping a Short and Safe Route focuses on the current market situation and market changes.
• Internet in Russia ++: What to expect? focuses on the future prospects of developing internet infrastructure and network services.
Video Content+ will cover issues related to the production, distribution and monetization of video content, the launch and delivery of television channels, and regulation and development of the media industry.
The track consists of the following sections:
• Video Content + Hands-On Workshop is a practical session covering all the stages of launching a new television channel all the way through to reach end subscribers.
• Video Content + Delivery focuses on moving from satellite to terrestrial delivery.
• Video Content + State Regulation focuses on the nuances of the modern approach to regulating the media industry, with relevant examples of innovations.
• Video content + Hollywood Substitution focuses on various models of foreign content substitution and the potential for its monetization.
• Video Content + AI is a demonstration session where neural technology developers and video production professionals will test if artificial intelligence is capable of replacing humans in the media industry.
Peering Forum participants will get a unique chance to network with other industry professionals, to share knowledge and experience, and to work together on the topical problems and challenges facing the network community and the media market.
_Alexei Kostin, Head of the Peering Forum 2023 Organizing Committee: "We created a program committee consisting of recognized telecom market experts with huge experience and extensive knowledge, to develop the most exciting, relevant and eventful forum program. We believe that this approach will help maximize the outcome and meet the expectations of our guests and participants." _
About
Peering Forum 2023 is the largest telecom event in Russia. First organized 18 years ago, the event brings together more than 800 representatives of telecom operators, cloud service providers, commercial and state-run organizations, content providers, broadcasters, OTT platforms and technology developers. The forum is organized by MSK-IX, a company that for 28 years has been helping companies from different sectors to develop networks and services based on multi-service platforms, including Internet Exchange, Medialogistika, Instanet and DNS.
Date: November 29, 2023
Venue: Congress Hall, International Trade Center. Address: Entrance 4, 12 Krasnopresnenskaya Naberezhnaya, Moscow.
The official program and application form for participants are available on the official website of the Peering Forum.
Please note that the number of participants is limited to two persons per organization.
Peering Forum 2023 partners: Effort Telecom, RDP, Technical Center of the Internet, Citadel, Sinterra Media, VAS Experts, DSMC Rus, Rostelecom Data Processing Center
Analysis partner: Telecom Daily
Media partners: Kabelshchik, ComNews, IT-World, Telesputnik, Vestnik Svyazi, ICT-Online, ICT2GO, ТТС, Violet Violin, ClubComTur.RF, National Association of Broadcasters